ROSSDHU GATE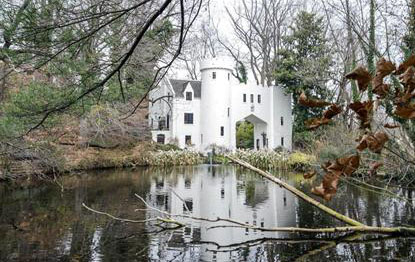 There is a castle for sale in Chevy Chase MD. For more information, go to:
http://www.weichert.com/50264774/
To return to this page, click on the BACK button.
The information on the listing says:
"Call this castle home!: Rossdhu Gate. 1 of a kind Scottish Tudor Castle w/ crenellated rf, 4 stry tower w/ circular staircase, gargoyles, fountain, terrace w/ views of wee Loch Lomond. Enter another world in this unique home w/ newer kit & HVAC, pd baths, exterior stuccoed/repainted.. 2 sections joined by enclosed bridge over wide gate. 3BRs, 3.5BAs, sep library, office, much more.BY APPT ONLY!"
On 12-18-17, I received e-mail that said:
In looking through the other MD castles, I was happy to see this one listed, as it's a neat place. I happened to be bicycling past the house a few years ago, and someone was outside working in the garden that surrounds the pond. Being a gardener, I stopped to ask about the plantings (and of course the house!), and was thrilled to have the person not only be the owner rather than the gardener, but to invite me up into the house.
The photos as shown in zillow below portray it as he lived there. The one thing I wanted to mention was that this was actually just the gate house to a much larger estate that was perched above it, on Rossdhu Court (no doubt the reason for this castle's name) that was either torn down or burned down several decades ago. The gatehouse was built in 1927.
https://www.zillow.com/homes/for_sale/3207-Woodbine-St-Chevy-Chase,-MD-_rb/?fromHomePage=true&shouldFireSellPageImplicitClaimGA=false&fromHomePageTab=buy

Back to "Castles of the United States"

Thanks to Mark Eastwood for finding this castle.