YATES CASTLE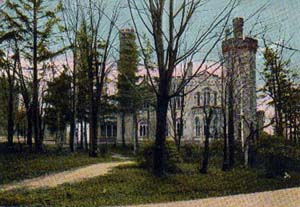 This is a photo of Yates Castle - Syracuse, New York.
On 5-27-05, I received E-Mail that said:
I saw your picture of Yates Castle in Syracuse, NY, and noticed that there was no info given about it. I live in Syracuse, and I thought you might want to know a brief bit about it.
It was built around 1850 in an area of Syracuse which was then the outskirts, called "The Highlands." It stood on 50 acres of land and was a private residence. Today this is where the S.U. Hill is (Syracuse University hill), and it is a busy part of the city. In around 1900, the University bought and renovated it; it was used for faculty, then in 1934 was used as home of the new Journalism school, where it was called "The Castle." In 1953, the university wanted to expand their medical school, so they destroyed the castle to make room for the new buildings. "On April 25, 1953 a farewell ball, complete with period costumes, was held at The Castle to say goodbye." Some of this information comes from the following online article by Syracuse University: http://archives.syr.edu/arch/exhibits/yts.htm
Back to "Castles of the United States"

Preliminary research for this page done by Phil Bilzor.