OHEKA CASTLE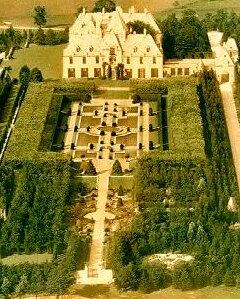 OHEKA Castle in Huntington New York is the second largest mansion in the United States. Only Biltmore mansion in North Carolina is larger. The name for Oheka Castle was taken from the name of Otto HErman KAhn, the millionaire financier who ordered the castle built. Mr. Kahn wanted to build his castle on a hill where he could have a commanding view of the surrounding area, but he was unable to find a suitable hill for sale, so in 1914, he purchased 443 acres and over a two year period he ordered enough earth moved to create a suitable location. The castle was then built, and the Kahn family moved into it in 1919 and lived there until Mr. Kahn's death in 1934. After that, the castle was used over the years as a retreat for New York City sanitation workers, a training center for radio operators during WWII, and a boys military prep school. When the school went bankrupt in 1978, OHEKA was abandoned. For six years, the castle was at the mercy of vandals, squatters, arsonists, and mother nature.
Then, in 1984, businessman Gary Melius came to the castle's rescue. Under his direction, the main floor, exteriors, and formal gardens were restored to their original glory. Today, OHEKA's magnificent first floor, and formal gardens are available for weddings, banquests, charity events, business functions as well as photo shoots.
Author Robert B. King wrote an excellent book "Raising a fallen treasure" about the history of OHEKA Castle and Otto Kahn. This book can be ordered by sending a check for $20.00 made out to Oheka Management Corp. to the address below.
For more information, contact:

OHEKA Castle
135 West Gate Drive
Huntington, New York 11743
Phone (516)-741-8141

To visit the Oheka web page, click here. To return to this page, click on the BACK button.
Back to "Castles of the United States"

Most of the information on this page was graciously provided by Kelly Melius.