CASTLEWOOD CASTLE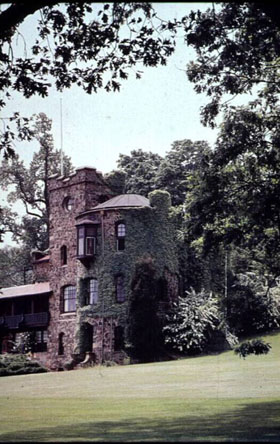 I received E-Mail that said:
CASTLEWOOD, former residence of Vern David Newman, Wall Street Financier. The castle pictured here is located in Llewellyn Park, West Orange, NJ, The first planned and landscaped residential community in the US. Designed by Mr. Llewellyn Haskell , Olmstead and others in the 1850s, the park is just 13 miles from Manhattan. CASTLEWOOD, given that name by Mr. Newman, upon his purchase of the estate, has an elusive history not widely known. Legend has it that an English Nobleman had the structure built for his young wife who remained behind in England and perished there before the castle was completed. Only the East Wing is visible, however the foundation for the West Wing lies beneath the grass. Anyone who has information about CASTLEWOOD or its original owner is invited to contribute. We'd like to know more about this REPORTEDLY HAUNTED estate.
Later, I received E-Mail that said:
I found your web site while doing research on Llewellyn Park, and thought that the information that you list should be corrected. I live in Llewellyn Park. The following information comes from the site survey for the National Register of Historic Places application for Llewellyn Park. While the following is not as romantic as your current description, it is historically accurate.
Construction on Castlewood was probably begun in 1858 and the architect was Alexander Jackson Davis. It was designed in the gothic revival style in 1857 for Joseph C. Howard, a local businessman. The house was never completed by Howard and was taken over by Llewellyn Haskell, who founded Llewellyn Park in 1852. Llewellyn Haskell lived there for a time but did not complete all of Davis's plans. It is said that this is the only surviving example by Davis of a castle-type villa.
Olmstead did not lay out Llewellyn Park as is sometimes assumed. Llewellyn Park was laid out by Llewellyn Haskell and Alexander Jackson Davis as a romantically designed community in 1852. Olmstead did study the roads and design of Llewellyn Park when designing NYC's Central Park years later. Llewellyn Park is part of the Township of West Orange, New Jersey.
Later, I received E-Mail that said:
Castlewood is considered haunted because it was boarded up and abandoned for several generations. The local kids used to sneak into Llewellyn Park (a walled and gated enclave for the wealthy) to spy on the place. It caught people's imaginations sitting alone on a sloping grassy property. A huge meadow across the road further accentuated Castlewood's appearance of isolation (circa 1970, Route 280 sliced through the mountain and took away the meadow). Since all castles benefit from having at least one ghost, the "haunted" tag came from a combination of the kids' already active imaginations intentionally fueled by the adults in an attempt to prevent any explorations of the potentially dangerous interior. The "ghost" was usually claimed to be that of the orignial owner, who up and disappeared when he fell on hard times leaving the building unfinished.
Castlewood is used throughout my mystery novel, DEAD AT THE BOX OFFICE, which is set against the World Premiere of Spencer Tracy's EDISON, THE MAN held in West Orange during May of 1940.
On 11-9-2007, I received E-mail that said:
I have lived in Castlewood for the last 28 years. The castle is not haunted. Extensive renovations resulted in an extremely livable and comfortable home. Castlewood is a Gothic Revival rustic Villa which was designed in 1857 in the English Medieval style for Joseph C. Howard a local businessman. Situated on 2 acres with castellated stone porte cochere'.
The entire original composition was designed by noted architect Alexander Jackson Davis, the first American architect to champion Gothic residences, and is reputed to be the last remaining example of a castle type villa by him. His 1837 book, " Rural Residences", was dominated by examples of them, and was the first house plan book published in this country to include floor plans and three dimensional views. Davis was a key contributor to the design and development of Llewellyn Park, and completed numerous other home designs in the Park, as well as a home for himself. Howard was never able to fully complete Castlewood, and Llewellyn Haskell, founder of Llewellyn Park later resided there. Llewellyn Park was the first private community in the United States.
Castlewood was also influenced by Davis' friend and collaborator A. J. Downing, who wrote many landscape and plan or architectural pattern books. Downing promoted a Picturesque and Romantic style of architecture which stressed the integration of landscape into the design and enjoyment of homes.
A tall square stone tower and round, drum-like tower, dominate the composition of Castlewood. The square tower is somewhat unique as it was not widely popular until after 1860. These along with the castlellated parapet, and parapeted gables create the outline for a house of major significance. Only 5% of Gothic Revival structures have this type of design detailing, which is usually reserved for high-style landmarks, churches and public buildings. Being constructed of indigenous trap rock, laid up in a rubble pattern most likely quarried at the site, however, gives the home a more rural, casual and romantic character than might otherwise have resulted. These stone walls are reportedly in excess of two feet in the lower level toward the hill.
The broad expanse of the low-slung porch, with heavy Doric style columns, is an example of the romantic notion to integrate landscape with living areas. Other features of this home are pointed gothic style arches at the windows and doors inside and out, a projected oriel window on the third floor looking toward New York City, heavy planked doors, beamed ceilings, and stained glass.
Castlewood is important to the history of Llewellyn Park, and the legacy of one of America's most famous architects of the time. This history and description of Castlewood was provided by Brendan Nolan for the Llewellyn Park house tour celebrating the 150th anniversary of the Park.
Castlewood is presently for sale and pictures of the home can be found at:
www.weichertcapital.com MLS number 2317262
Back to "Castles of the United States"