WILKESON CASTLE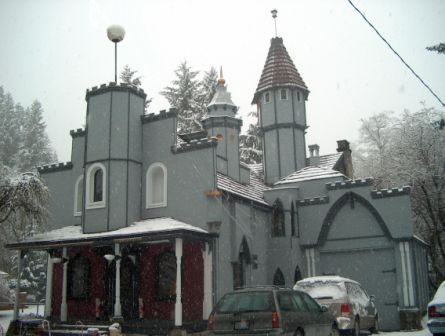 0n 2-11-06, I received E-Mail that said:
Bought this unique home about a year ago.
Here's Tacoma News Article about it and its unique build.
Wilkeson Man's Home Really is His Castle
By CHRISTINE CORBETT
Alan Andersen has never visited a castle. He's never been farther away from Pierce County than Texas. But that didn't stop the 54-year-old Wilkeson resident from building a five-story, 24-room, turreted wonder that has attracted visitors from the United States and numerous foreign countries.
In 1978, Andersen began to construct his dream house from a $15,000 two-story frame home. Four and a half years and $50,000 later, construction was completed last Christmas. The 3,000-square-foot wooden building has one main tower, five turrets, four winding staircases, five crystal chandeliers and ornate windows with hand­tooled designs of unicorns and medieval scenes.
Although there isn't a moat, the Wilkeson River runs along the back of the property. "I think there are 24 rooms," Andersen said. "I went through three times and tried to count." The many small alcoves, passageways and even a tower room complicate the count somewhat, he explained. Andersen didn't work from any blueprints as he began what he terms his "challenge in carpentry." "This was all my own ideas;" he said. "Anytime, I wanted an opening, I'd just take a chain saw and cut it." He hasn't run into any problems from the town building inspector. He was appointed to that job two years ago.
The divorced father of four made use of any and all available materials from egg cartons to bicycle reflectors to surplus hydrofoil materials ­ to build his castle. "Anytime I ever wanted anything, I just went down in my workshop;" he said. "Whatever I needed was there." At one point, his health began to suffer as he spent as many as 14 hours a day on the project. During construction, Andersen had a few unusual experiences, including finding a human jaw with a gold tooth enclosed in the roof of the original house and having a houseguest spot a gray­haired "ghost" wandering through a bedroom. The ghost is gone now, he believes. Some 15 busloads of people, including school children and senior citizens, toured the castle during construction. Other visitors have come from as far away as England. France, Holland, Germany and India. "People are amazed when they walk in, but when they leave, they want to hold my hand or to marry me;" he laughed. "They think I'm a celebrity. I can see how movie stars get tired of people."
Andersen had to cut down on the number of visitors he had during construction because other Wilkeson residents were complaining about the traffic. Before long, though, he hopes to begin regular guided tours through his mansion, contributing a percentage of the profits to the town's road repair fund. During holidays; he plans to have people in Halloween costumes, American patriot attire and Santa Claus and Easter Bunny suits greeting guests. He'd also like to have weddings at the house and perhaps, one day, open a restaurant there. A carpenter by trade, Andersen took a philosophical approach to his herculean building task. "I never worried about what I would do;" he said. "Whatever problem came up, I knew I would conquer it.,,
He helped finance the project through several construction jobs in Wilkeson and income from a tavern he sold. A little imagination transformed egg cartons into ceiling decorations, bicycle reflectors into turret trim and leftover plywood sheeting from a hydrofoil into a covering for the tower. Two gargoyles for the turrets were found in a Seattle antique shop. Other building supplies came from swap meets, hardware stores and garage sales.
Now that it's finished, the castle is not expensive to maintain, Andersen said. Although the corridors may be a little chilly ­befitting the tradition of all good castles ­ he spends between $15 and $35 per month on utilities. A wood stove and the fireplace help to keep down costs. All the master builder needs now is furniture he has only about a dozen pieces, including a bed, a few chairs, a couple tables and a TV, scattered through several rooms. Andersen said the castle gradually evolved from a desire to make his life more interesting. As a foreman on the Snoqualmie Pass bridge project in 1977, he found his spare time was spent "just sittin' in the bar all the time." Once he began remodeling the Wilkeson house and talking about his castle, however, his neighbors thought he was "weird," he recalled. "When I was working on the tower, they thought it was a water tower at first, then a church steeple," he said.
Andersen said he believes the townsfolk have gradually come to accept the castle. In 1979, he was even elected to a spot on the city council, Andersen isn't content to rest on his laurels now that his castle is finished. When he isn't painting or finishing wood, he's promoting what he considers to be "the nation's problem solver" -- a sophisticated highway plan that would make use of cloverleaf interchanges, minibus depots and underground escalators leading to parking lots.
Back to "Castles of the United States"