KIP'S CASTLE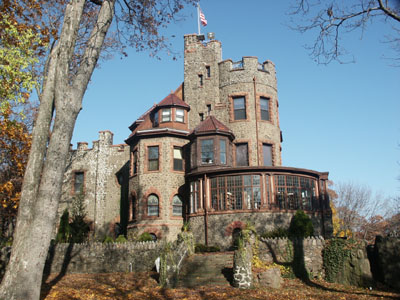 I received E-Mail that said:
With regard to Kip's Castle in Montclair, New Jersey, I grew up in there & I know I sang there as a teen. Last I heard it was restored after a cult was evicted & now being used as a business. I think a law firm is using it. I haven't been there in years & dont know the history, but I could try to find out from friends. I couldnt believe there isnt any internet info on it! It is near Lambert castle.
Later, I received E-Mail that said:
I grew up in East Orange, New Jersey and when I was in high school (1968-1972) we used to ride to Kip's Castle and terrorize "someone". Yesterday a friend of mine called me from California asking me if I remembered anything about Kip's. I told her I thought "little people" used to live there. It seems I remember going there and being chased by someone.
Anyway my friend told me - as mentioned on your web site, Kip's Castle is now owned by a law firm Schwartz, Tobia, 2200 Crestmont Road, Montclair, New Jersey (973) 746-6000. I understand there is lots of historical stuff there and we are going to try and get some of the history of the castle for you. Also it is up for sale.
Later, more E-Mail:
It was built in the late 1800s by Frederick Kip. In 1990, the law firm bought the property from an East Indian cult, Rhagenesh, or something like that. They had an impressive Rolls Royce Collection and wore red. The leader of the cult was later prosecuted for tax evasion and has no doubt fled the country. The property has recently been sold to Pinnacle Real Estate and may be converted into condos!!
Later, I received E-Mail that said:
Kip's castle actually stradles the boundary between Montclair and Verona, atop First Watchung Mountain. To access the property, one must actually go through Verona, and pass closeby the condominium complex where former Senator and New York Knick Bill Bradley calls home.
Back in the late 1970s/early 1980s, the castle was owned by the cult led by Bagwan Shree Rashneesh. The cult also occupied a house on Valley Road in Montclair, near Van Vleck Street and ran a storefront business adjacent to the house. (The house is still there, but the storefront has been redeveloped). The cult members wore bright red and orange clothing. I recall as a youth that many people were rather curious of the cult. There were the usual rumours of sex orgies and other odd things occurring at the property, but as far as I know that was just a figment of over active imaginations.
At some point in the early 1980s, the cult moved to Oregon, where they basically took over an entire county, installing their own into government positions. The Bagwan had something in the order of 85 Rolls Royces. He was ultimately convicted on tax evasion charges and deported back to Poona, India where the cult still exists as far as I know.
Later, I received E-Mail that said:
I Live in Verona, home of Kip's Castle. I've been reading in the local paper (Verona-Cedar Grove Times) That residents near Kip's oppose to the building of condos on the estate. Kip's Castle now holds businesses of some sort.
Later, I received E-Mail that said:
I used to sneak up to Kips Castle when I lived in Verona. I remember being very a nervous and excited to go up there based upon all the rumors I had heard. The first attempt, my friends and I were literally chased away by dogs. The second time I went alone and as I looked up at the stained glass window I felt as if someone was staring at me. The third and last time I went up the current owners were actually offering tours of the Castle so I went in. There was a man who wore a robe that was open at the chest to reveal a deep hole in the center of it (freaky) and as we walked up the stairs to see the bedrooms he looked at me and said that for some reason he seemed to recognize me. I, at the same time, noticed that you could see out the stained glass windows quite well, so I just kinda replied "Oh Yeh?" and continued up the stairs. In the bedrooms all the mattresses were on the floor without box springs. That's all I can remember. However, the weirdest part of the tour was when they were showing and describing the rectangular-like "box" above the fireplace on the main floor as someone's coffin that had been built into the woodwork.
Later, I received E-Mail from Peter who said:
I had a great aunt who lived in Kip's Castle in the '20s-'30s, Nell Tidridge. Anyone knowing about her or others who were there in those days would be great to talk to. I can be contacted at: dyerwolf@att.net
Later, I received E-Mail that said:
I thought I'll give you a little update on Kip's Castle, in Montclair, NJ (or Verona as some people might say). The castle is up for sale (by owner) for $4.8M. This is what I copied from NYT website along with the picture that they posted.
Exquisite turn of the century castle-style mansion with large carriage house on 10.5 secluded acres. Panoramic view of NY skyline. 25 minutes from NYC. Features 9,000+ sq ft Castle with original woodwork, stained glass windows and 6 fireplaces, with a 5,000 sq ft Carriage House. Zoned residential and professional, perfect for home/office use. $4,800,000. Direct all inquiries to Charles Stanziale at (973) 746-8765. By owner. Fax (973) 655-0699.
LISTING INFORMATION Listing ID: 13 Price: $4,800,000 Bdrms: 6 Sq Ft: 9000
Later, I received E-Mail that said:
I just visited Kipp's Castle, very impressive.
Attached is a picture if you want to use it in your web page.
Later, I received E-Mail that said:
My name is Gary and I live in San Jose Ca. I grew up in Dodd town, East Orange, N,J, My parents had very good friends who lived in the main castle building as a nurse for the owner from around 1951 to the late 60,s. Their last name was Ingrem . Their son's name was Fred and the daughter's name was Nancy. They probably still live in north Jersey. As a 6 year old to 18 year old, I would visit often and play in the house, huge garage coach house and sunken gardens. The house at the time seemed dark and scary . The huge garage bulding and I believe ???? there was a separete coach house too.
There was and old Caddy limo, not running 40.s late. an couple old carriage. The view of the city was breath taking at night from the living and roof. We would visit many times on the July 4. Great view from the top of the castle. I also visited the property the night the had black out of N.Y. in the 60s. I was 3 years younger then my brother and Fred Ingrem, and let me tell you those two terroized me in that scary dark house . They would lock me in huge rooms at night with no lights. Think about this being 8,9,10 years old visiting that beautful house.
Later, I received E-Mail that said:
I was born and raised not a half mile from the Kipp's property, located on the ridge between Verona and Montclair. It is bordered on the south by the Rockledge Apartment/Condominiums, and on the north by a monastery (the name of which escapes me at the moment.) The house was owned by the Stanziale-Tobias Law Firm when I moved away last autumn, and indeed was up for sale for 4.8 million dollars.
The township of Verona was trying to get the home placed on the National Register of Historic Places in order to prevent development of the property with more condominiums. This was due to the infrastructure problems related to such development in sewers, water access etc. A large parcel of property became condos about 15 years ago, and is a nightmare for the fire dept to access, being tightly packed and with inadequate water pressure for the hydrants.
I was associated with the fire dept. there for many years, and in 1971 a huge Georgian mansion owned by Huntingdon Hartford (the A&P heir) was gutted by fire. It was located across the street from Kipp's. I gather when both homes were built , the neighborhood was somewhat of a Millionaire's Row. The carriage house for that estate burned in 1974. I have not had word on whether or not the property has yet sold, but the historic designation battle was still going on.
On 7-15-05, I received E-Mail that said:
Hi...Just to set the record straight on one of the former owner's of Kip's Castle in NJ: In 1984, Bhagwan Shri Rahneesh was arrested on charges of immigration fraud, not tax evasion, and was brought to Oregon for trial. He was convicted, fined $400,000, and deported from the United States. Info here: http://www.ohs.org/education/oregonhistory/narratives/subtopic.cfm?subtopic_ID=414
His cult attempted to control the town of Antelope, Oregon with some VERY extreme measures:
"In 1984, followers of Bhagwan Shri Rashneesh sprinkled homegrown salmonella bacteria on supermarket produce, door handles, and restaurant salad bars in Oregon. Nobody died, but 751 people became ill. The poisonings were preparation for attacks meant to keep voters home during a local election in which a cult member was running for a county judgeship. Prosecution of cult leaders led to the dispersement of the organization."
Copies from WebMD, here: http://my.webmd.com/content/article/61/67268.htm
On 9-18-06, I received E-Mail that said:
My parents and I just realized that Kip's castle was for sale and I was curious about it and found your web-site. The information below is a little bit more about the castle, from a real estate firm. The asking price for the castle locally is over $8 million.
I grew up in Montclair and when I was a child in the early 1980s my mother took me and my sister on a trip to Kip's castle, which was eerily beautiful, but once we got out of the car we were chased away by the hippies who seemed to be living there. They didn't chase us away but their appearance was frightening so we kind of got out of there fast. Later on my friend's father, Mr. Stanziale, bought Kip's Castle for his law firm, Stanziale, Tobia & Schwartz. My friend said that the renovations took a while because of all the hidden staircases that had to be sealed off during the renovation. On an architectural note The house itself has that early 20th century Arts & Crafts/ Art Nouveau look to it, and is really located in a perfect location to enhance those architectural styles. I also wonder if the house was built by the same man who built Kip's Bay in NYC, but have not been able to figure that out.
1902 Renovated Castle. 14,000 10 Acres.
Asking Price: $4,800,000 USD (Negotiable)
Built in 1902 Kip's Castle is a medieval-style mansion on 10.5 wooded acres overlooking the unmistakable beauty of the New York City skyline. Although built at the turn-of-the-century, Kip's Castle and the surrounding property been immaculately reserved and successfully converted into a modern, professional office facility and presently occupied and owned by one of New Jersey's most prestigious law firms.
The Buildings:
The main building, which is fully powered and equipped with a modern HVAC system totals 14,131 square feet. It has a large kitchen. An adjacent carriage house offers an additional 5,000 square feet of totally renovated office space for a total of 19,131 square feet of elegant and historic space with all the modern conveniences. This totally unique property is unparalleled for the discriminating buyer and company that seeks to locate to a the ultimate office space available in New Jersey.
The Property:
The location of Kip's Castle. set away from the routine traffic and noise. This location provides a quiet and elegant environment, ideal for any real estate need. Nearby Montclair offers a bounty of quality amenities. Located high on a mountainside, the location offers magnificent views of the New York City skyline as well as the northern New Jersey landscaped. The property is professionally landscaped and maintained. Easy access to northern New Jersey's major thoroughfares is quick and easy. Only 20-30 minutes to Manhattan.
On 1-03-08, I received e-mail that said:
Kips Castle in New Jersey was bought by Essex County in 2007. They presently own it and are taking care of the grounds and building.
---
Link removed at request 3-18-11
---
On 7-24-11, I received e-mail that said:

I just thought I would keep you updated on Kip's casstle:

http://www.northjersey.com/recreation/117530313_DiVincenzo_to_hold_public_meetings_about_Kip_s_Castle.html

Back to "Castles of the United States"

Photo courtesy of Arie Kronfeld.