PRESTON CASTLE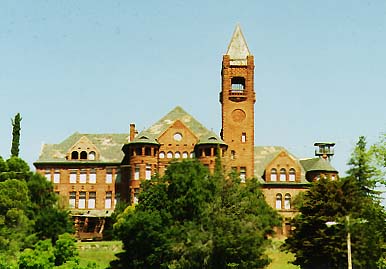 Built to accommodate the Preston School of Industry in 1894, this building is the most significant example of Romanesque Revival architecture in the gold country. The School of Industry was an attempt to rehabilitate juvenile offenders. It closed in 1960 when the school built a new building.
Later, I received E-Mail that said:
My name is Dave Stanley, and I am vice president of the Preston Castle foundation. The foundation is restoring the castle, to become an arts college. We are in the final weeks of signing a lease with the state. We have been working on the building with volunteer help since early this year.
Preston Castle has the beginnings of a web page. The website can be found at: http://www.prestoncastle.com

On 7-11-05, I received E-Mail that said:
I was looking up the castle in Ione California and found your site. My mother in law grew up in the castle. One day she was visiting us and my husband told me that his mother grew up in Ione California before meeting his dad. I took the moment to tell her how we had been driving through the area a few days before and had seen a castle on the hill. She then told me that she grew up living in that castle and lived in a small apartment style living quarters inside the castle and it had a staircase that was also a entrance from the outside .
I asked her how she came to live in it and she said that her father was a school teacher there. I did my own research on the net and I came to learn that it was a place for juvenile offenders and must have had some kind of school in it for the boys whom lived there and my husbands grandfather was the teacher there. My husband said his mother NEVER took them to the place she grew up and seldom talked about it. He couldn't believe his eyes when I showed him the castle his mother lived in and how she never shared that part of her life with them.
Back to "Castles of the United States"

Preliminary research for this page done by Phil Bilzor.