STEINHEIM CASTLE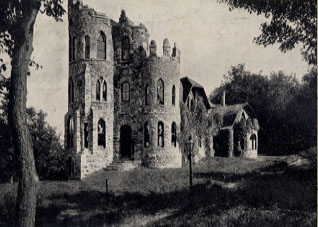 I believe that Steinheim Castle is or was in Alfred, New York.
Later, I received E-Mail that said:
This is a link to the Steinheim Castle
http://www.alfred.edu/virtual_tour/stein-f.html
To return to this page, click on the BACK button.
Later, I received E-Mail that said:
I was browsing your castles and found the Steinheim, which pleasantly surprised me, since I know it well. I attended Alfred University, which is home to the castle. I see you have a link to the University web site, but here's some info I got off a different part of the website:
University Professor Ida Kenyon began construction of the castle in 1878 because she wanted to reproduce the architecture of a castle from Germany. (She was a native of there.) But she ran out of money before it was finished, so the second president of Alfred University, Jonathan Allen, bought it and had it completed to be used as a natural history museum and classroom. The Jonathan Allen Steinheim Museum was closed in 1953 due to much use with little maintainance. It reopened 10 years later with minor repairs only to be used for almost 30 more until undergoing renovations. I'm not sure exactly when it reopened, but I know it was while I was a student there, so somewhere between 1996 and 2000. It has since become home to the Robert R. McComsey Career Development Center.
A few facts listed on the page were that the stone used to build the castle was all found within 3 miles of campus and contains over 8,000 kinds of rock from ice age debris. Also, there are over 800 kinds of wood on the inside, all from locally native trees.
I hope these facts help a little. The Steinheim holds a place in my heart- it's one of the most well known symbols of Alfred and I spent 4 years looking at it every day and wishing I could have lived there. I have been inside of it since the renovation but I wish I could have seen the original interior. Oh - one more thing, it was told to me on my tour of Alfred that the castle was also used as the campus radio station once.
Later, I received E-Mail that said:
I attended Alfred University from 1975-1979 and can personally verify that the building, or at least the rear portion thereof, was in fact used as studios for WALF, the student radio station.
During 1975-1976 it was actually possible to enter the front portion, which contained soundproof practice booths for music students; the spiral stairs to the second floor were boarded off. However, a determined few (mostly from the radio station) found a hidden entrance from the rear portion. On many occasions I slipped through this hole and explored the building interior. The very topmost room was a wonderful place to catch up on required reading while enjoying an incredible view of the campus. This room had a ceiling decorated by large, hanging honeycombs from long-departed bees.
The inside walls of this amazing building were ornately panelled with woods collected worldwide. Although in shocking disrepair by the 70s, a few details remained intact, including a marble block inside an otherwise empty niche with dates to suggest the niche once held someone's funerary urn.
Even the walls themselves contain history in the form of several dated millstones. It was quite evident from the interior layout that the building never served as a residence.
Working at the radio station during that period could be incredibly spooky, especially if you were on-air late at night (as I was often). When the teletype machine, a big noisy contraption in a closet, was transmitting news copy, the racket could be heard throughout the entire building and would abruptly cease leaving a weird and sudden silence. The funkiness of this building contributed much charm to the Alfred campus--which today is nicer and prettier, but perhaps a bit less intriguing.
Later, I received E-Mail that said:
It appears you have a better history of the castle on your site than AU does. THANKS! It holds very near and dear to the hearts of most Alumni of this small school (2300 attendees in the early 90s). Just to add the info. . . I attended AU 1990-1995, just before the person who sent the second email and a while after the person who sent the third email. During my time at AU the castle was still used for WALF radio. Only when the station moved to the new campus center was the castle closed down and renovated and turned into a career center (which was formerly located in another campus building). I believe the renovation must have taken place in the mid to late 90s.
Back to "Castles of the United States"

Thanks to Phil Bilzor for sending in the photo and finding the link.