UNKNOWN CASTLE ??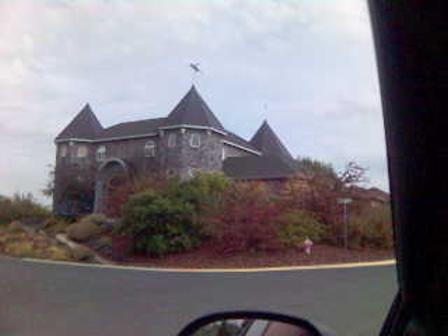 I received E-Mail that said:
I have heard of a hand-built castle in Idaho, constructed, I believe, with handmade cement blocks. It is not to be confused with Kataryna castle.
Later, I received E-Mail that said:
I do not know for sure but maybe that unknown castle in Idaho is In Moscow. There is a castle in Moscow Idaho just east of Mountain View road in a fairly new housing addition. I am not familiar with the construction details but this castle was built by a doctor and his wife in the late 80ís I believe. This may be your unknown castle, or It could be another castle that you donít have listed. I do not currently have an image of the castle but I have seen it and it definitely is a castle although very small.
On 7-11-05, I received E-Mail that said:
The Castle in Moscow was built behind MacDonald Elem. I went to school there. I was 6 when the castle was built and I played in the construction site. I'm sure the building has a wooden frame and was built to look like stone.
On 9-16-05, I received E-Mail that said:
There is indeed a residence in Moscow, ID built to look like a castle. Dr Dave Rych built the castle to fulfill a promise made by him to build his wife, April, a castle if she helped put him through med school. It is built on the crest of a hill, on the corners of Moser St and Rose Ct, above and behind the MacDonald Elementary school.
The exterior features a beautiful rock facade, gargoyles, a faux drawbridge, and a balcony. I have heard, from those who have been invited inside, that the interior is extremely cool and includes secret passages and a multi-story library in one of the turrets.
I wasn't able to find a good digital camera, but I did take a snapshot with my cell phone. Unfortunately, it is not of the greatest quality.
Does anyone have any information about it? Does it have a name?
Back to "Castles of the United States"

Thanks to Mike Harshbarger for taking and sending the photo.