WOODMONT CASTLE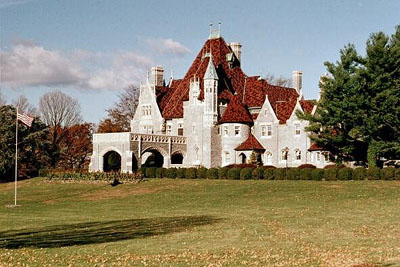 I received E-Mail that said:
I am sending you some info on the Woodmont located in Gladwyne, Pennsylvania I recently did the Family History of My Girlfriend for her Birthday and this was Great Grandparents Home.
Woodmont, Gladwyne
In 1892, Quaker architect William Lightfoot Price designed this French Gothic chateau for Alan Wood Jr., then president of the Alan Wood Steel Company in Conshohocken. Built in Gladwyne high up along the Schuylkill River on one of Lower Merion's highest sites, Price adorned it with multiple pinnacles surrounding a tall red pyramidal roof over the central great hall, described by one writer as "the tallest peak of a small mountain range consisting of turrets, gables and tall chimneys." The interior was as elaborate as the exterior, with a grand stone fireplace, great stair, and encircling balcony, with carved, stained oak throughout. Unbelievably, this gorgeous building fell into disrepair and disuse, and was later reclaimed by Father Divine in 1953 to become the country estate of the Peace Mission Movement, and has been restored by this church, now designated a National Historic Landmark
http://www.lowermerionhistory.org/texts/richmen.html
Two of the most ostentatious estates in Lower Merion were built by the heirs of men who started metal industries. Alan Wood, Jr., was the grandson of James Wood, who founded an iron rolling mill in Conshohocken in 1832. James's son, Alan Wood, continued in the iron business, and Alan Wood, Jr., became president of the huge Alan Wood Steel Company in West Conshohocken when steel production was undertaken.
He built Woodmont in 1892 on a site that held a commanding view of the Schuylkill and the steel company on the other side. This French Gothic chateau, designed by William L. Price, took four years to complete. It was built of stone quarried locally with white limestone trimmings, high-peaked red tile roofs, and varieties of levels, towers, terraces, chimneys, and porches. The large porte-cochere is roofed over with an elaborate balustraded porch. Woodmont Farm contained 100 acres of the 400 contiguous acres belonging to the Wood family. Exterior ornamentation features elaborate hand-carved stonework abounding in figurines and trim, while the interior displays the paneling, railings, and decorations also devised by the skilled craftsmen brought from Europe for the purpose.
Mrs. Wood thought the house was too isolated and sold the property to a nephew, Richard G. Wood. In 1929 it was sold to J. Hector MacNeal, a corporation lawyer known also for his horsemanship. In 1952 Woodmont was purchased by the Peace Mission Church as a home and headquarters for its leader, Father Divine. It then consisted of seventy acres. The property reflects the extraordinary care it has received. It is a master-piece of formal gardens, wooded hills, a pond, a lake, and streams.
Back to "Castles of the United States"