EL CID CASTLE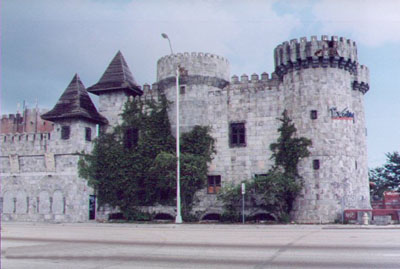 I received E-Mail that said:
I JUST WANTED TO INFORM YOU OF A PLACE IN MIAMI, ON LEJEUNE RD. (S.W. 42ND AVE.) SORRY I DO NOT KNOW THE NAME OF IT. IT IS A RESTAURANT BUT, IT'S EXTERIOR IS BY ALL DEFINITIONS, A "CASTLE". IT IS GIGAGANTIC. A BLOCK LONG! A SIGHT TO BEHOLD! PERHAPS THERE IS A WAY YOU CAN SEARCH FOR THE INFO ON IT. SORRY I COULDN'T BE MORE HELPFUL...
Later, I received E-Mail that said:
THE UNKNOWN CASTLE IN 42 AVE IN MIAMI IS NOT A RESTAURANT ANY MORE AND IT'S FALLING APART. NEEDS A RESTORATION SOON OR WE GOING TO LOSE IT
Later, I received E-Mail that said:
The Unknown Castle on LeJune Road in Miami, Florida is a restaraunt named "EL CID". We think they specialize in Spanish Cuisine....
Later, I received E-Mail that said:

TODAY SUNDAY, JULY 18 I WAS AT THE CASTLE, IT IS BEING DEMOLISHED (40% ALREADY) IT WAS A VERY SAD EXPERIENCE ME AND MY WIFE WERE ABLE TO SALVAGE A FEW THINGS.
THE CASTLE WAS THERE FROM BEFORE 1960 IT WAS AN ITALIAN RESTAURANT CALLED THE RED DIAMOND. THEN FELIPE VALLS A RESTAURANT MOGUL IN MIAMI BOUGHT IT IN THE MID 70'S AND IN THE 80'S REMODELED AS A REPLICA OF A MEDIEVAL CASTLE, THEY DID A GREAT JOB WITH THE CAST STONE, LEADED GLASS AND WROUGHT IRON GRILLS ON THE WIDOWS. WE ATE THERE A FEW TIMES AND IT WAS LIKE BEING IN A REAL EUROPEAN CASTLE. IT IS A SAD TIME.
Later, I received E-Mail that said:
Hi! I live 1 block behind the unknown castle that was called "El CID," it closed down and about 2 years later, the man who owns Versailles restaurant which was where the President of the U.S. came to eat, bought the castle and turned it into a night club and restaurant which he then called it "EXCALIBUR". A lot of famous singers came to sing there but about 2 or 3 years ago they closed it down and it was knocked down about 1 year ago because a lot of teenagers were trashing the place and lighting it up on fire. Now it is just and empty lot fenced up but it would be nice if they would rebuild another one. I went to eat there once and I have to say that it was beautiful. You felt like you were in a royal castle. it was very detailed and it was very elegant. It is a shame that they had to knock it down.
Later, I received E-Mail that said:
I stumbled upon your site by accident and noticed your listing of the El Cid Castle. A visitor wrote in with some inaccurate information regarding this building...
Yes, the castle has been demolished, but it was built in the late 70's/early 80's, not pre-1960 as your writer states. It was originally built as the "El Cid" restaurant.
The Red Diamond was never on the site of El Cid. El Cid was on 42nd Avenue. The Red Diamond (a Steak House, not an Italian restaurant) was on 27th avenue and was never remodeled to become "El Cid".
Later, I received E-Mail that said:
The Red Diamond was the great Italian restaurant on LeJeune Road, in Miami that became El Cid. In 1968, when it was Red Diamond, I ate there. They had great Lasagna. Later I ate there when it was El Cid. It was a Spanish/Bosque restaurant owned and operated by Cubans. Miami Jai-Lai wasn't too far away and they were after that market. The food was good for a while. Then he seemed to spend more money on the decor than he did on the food.
At it's peak, it was a striking building even though it was mostly plaster. Its walls were right up to the edge of the sidewalk. I moved away from Miami in 1999. Sad to see it go.
Back to "Castles of the United States"

A special thanks to Raymond Martinez for sending in the photo.