JULIUS CASTLE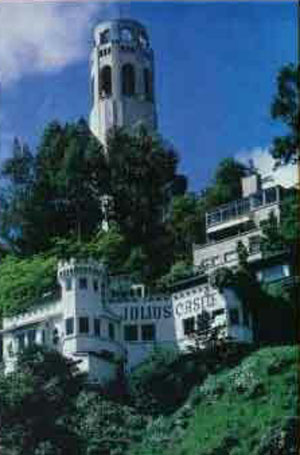 I received E-Mail that said:
Julius Castle is located in California, San Francisco. I'm not sure if it is a castle or just a gimmick to serve food. It is however a restaurant. I found it in my search for a castle to get married in.
http://www.bestofsanfrancisco.net/juliuscastle.htm
To return to this page, click on the BACK button.
Later, I received E-Mail that said:
This is a real Castle as well as an official historical landmark. San Franciscan's (As well as others) call this place the "most romantic restaurant", and well it is. It has been named in major Food Magazines and has also won awards. The view of the Bay Area is awsome, so be sure to reserve a window seat if you go! The food is delious and made with fresh ingredients. Up to date wine list also - Great selection. Its a favorite place of ours when in the City by the Bay.
Later, I received E-Mail that said:
The photo of the San Francisco restaurant "julius Castle" is deceptive---the big tower is in fact Coit Tower, a local landmark, wayyy up the hill and not a part of the WOODEN-castle restaurant below. I think the Juilus Castle building was built in the city's Victorian era and while it is a touristy place to eat, its award-winning-cuisine days are long past it.
On 7-16-11, I received e-mail with this link:
http://www.preservationnation.org/magazine/story-of-the-week/2009/a-happy-ending-for-san.html
Back to "Castles of the United States"