FALCON CASTLE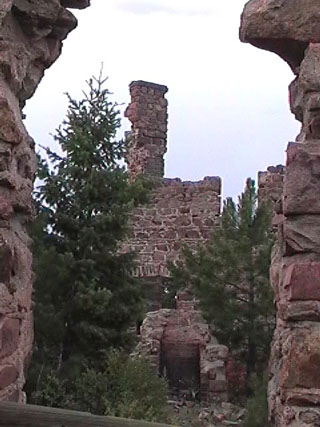 I received E-Mail that said in part:
I've also heard about a castle in Morrison, Colorado that is in Mount Falcon Park. But that is all the information I have...sorry!
Later, I received more E-Mail that said;
The story of Mt Falcon is largely the story of John Brisben Walker, who once owned 4,000 acres surrounding his castle. The acreage is now an open space area that the public can use for hiking and biking. Mr. Walker was a man of many visions. He made and lost many fortunes in his life. In a large meadow near the ruins is where he would race cars from the Stanley Steamer Co which he then owned . He went on to own Cosmopolitan Magazine. During the early 1900's Mr. Walker lived in an elborate stone house with eight fireplaces a 3 story towering turit. Huge and rambling ruins remain still. During his stay in the Falcon Castle before it burned from a lighting strike in 1918 he started a venture that was to be his dream. To build a summer home for the presidents of the US. Spectacular views in every direction would allow the Presidents to stand and feel the great reaches of the earth. Only a wall and corner stone were laid on this project when his home burned to the ground. He died at the age of 83 in 1931.02/15/98 5:46 PM More info to come soon and pictures too.
Later, I received E-Mail that said:
I live in Morrison, Co and have been to the Walker Castle ruins several times. It is in ruins, but there is still quite a bit of it left. Most of the exterior wall, as well as some of the interior walls are still there. All of what is standing is made of stone. One of the original towers is still in place, with a portion of it broken away to reveal a second of third story fireplace. My kids love this feature in particular because the fireplace still is blackened from the smoke of the fires that were once in it. The castle itself sits in a beautiful setting with views to both the east, overlooking Denver and the foothills and to the west, looking out at Mt. Evans. Mt. Evans is the nearest 14,000 ft. peak to Denver. You may be able to obtain a photo from Jefferson County open space. Their phone is 1-303-271-5925/fax is 1-303-271-5955. The castle is a part of the Mt. Falcon open space.
Back to "Castles of the United States"

A special thanks to Tanya Palo for taking and sending the photo.