WILLIAMS CASTLE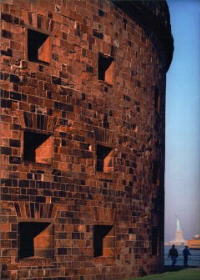 I received E-Mail that said:
Governors Island, Southeastern New York State. It is located in Upper New York Bay at the entrance to the East River, off the Southern tip of Manhattan. It has an area of about 70 hectares (about 175 acres). Since 1755 the island has been reserved for military use, the oldest such establishment in the United States. Fort Jay was built there in 1794. It was once a tiny island until the digging of the subway system of New York. The dirt was dumped alongside the island, drastically increasing it's size. But before then was built there Castle Williams! Built 1807-1811, it was named in honour of Colonel Jonathan Williams, who at the time was the superintendent of West Point and chief engineer of the U.S. Army.
The walls are made of red sandstone eight feet thick and rise to a height of 40 feet. Twenty-seven French 35-pounder cannons lined the lower tier, and thirty-nine 20-pounders lined the second tier. It was also used as a fort, then as a prison by the U.S. Army from the Civil War until 1966. During World War 1, Walt Disney was imprisoned in the Castle Williams Stockade for being absent without leave. Then during World War 2, Rocky Graziano served time in the Castle Williams Stockade for being absent without leave. These days, on Halloweens, it becomes "The Haunted Castle". Many volunteers would set up and display Hauntings, as they scared those who dared to enter.
Williams Castle is probably the only Castle on this site used for "real" CASTLE intentions. Castles are/were huge stationary military machines built to attack from behind it's walls, keep an army safe, plan and command inside of, or as an outpost. Used in every American war (to some capacity) since the founding of the USA, this Castle is an awesome site. Although, like the Sword, Castles are obsolete in war today... Castle Williams is immortal.
The fate of the island is unsure since the 1997 end of all military activity there. Either a hotel or casino, a historic park, a residential enclave park land, possibly one of the states Harbor Parks, or a sports stadium will be built there. One thing is certain.. Castle Williams will live on!
Note: After his famous ride, Paul Revere commanded a garrison at Castle Williams in Boston Harbor in 1779. This is NOT the same "Castle Williams".
Back to Home Page

Photo and information courtesy of Robert W. Harney.