KIMBLE CASTLE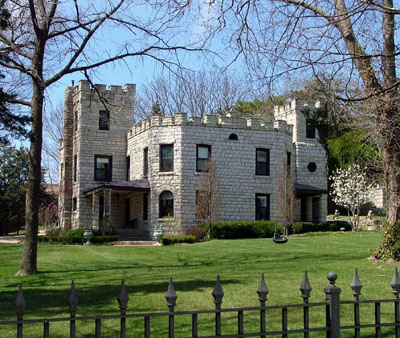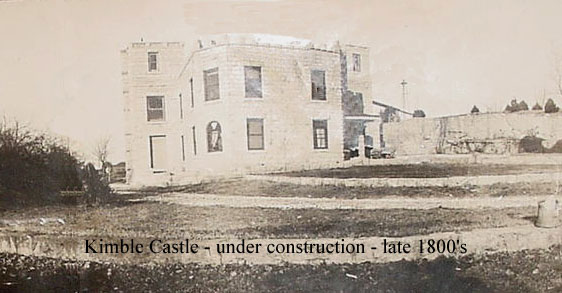 I received E-Mail that said:
A friend of mine lived in a castle in Manhattan while we were in school. The story as I remember went like this:
It was built in the mid to late 1800's (I believe). At some point it was turned into apartments, The care taker lived in a house that was on the grounds and then purchased the castle at some point. He was in his 80's then his name was JD (this was in 1989) he sold the castle, a young couple bought it and restored it back to a single dwelling, He was an audiologist in Manhattan. I don't know if they still live there or not. It is located on Ponytz Ave. By Manhattan High.
Later, I received E-Mail that said:
I found some information on the "unknown castle" in Manhattan, Kansas. It was built by a lawyer named Samuel Kimble, Jr. in the 1880's. It is still standing and is known as "Kimble Kastle". If I find out anything else I'd be glad to pass on the information.
Later, I received E-Mail that said:
I have some more info here on Kimble, but I have not been able to find a photo.
Kimble Castle at 2001 Poyntz Ave., owned by Charles and Anne Gillum, is a well-known Manhattan residence, Young said. "Anyone who has been in Manhattan knows Kimble Castle," .The Gillums, who bought the house in 1990, said it originally had a walk-in bank vault, ice house and one of Manhattan's first lawn-sprinkler systems.
Later, I received E-Mail that said:
I was able to make a photo of these two, for what it's worth. The first picture was taken about a year ago and doesn't really show the scale due to landscaping and lack of wide angle lens. The second (which came out poorly - sorry) is of the "castle" under construction, late 1800's.
Later, I received E-Mail that said:
Oh no,no,no...you have it all wrong about the Kimble Castle in Manhattan Kansas. It was owned by my grandmother and grandfather, JD and Bess Richards from about 1960 to 1990. They were never caretakers. Bess inherited the Kimble Castle from her aunts. The aunts had bought the castle in the 1940's. The aunts were direct descendents of the Moore family who had homesteaded in the 1800's near Brookville, Kansas some 90 miles to the west of Manhattan.
Originally, the castle came with a quarter section of land, of which my grandparents sold to the city of Manhattan for an extension of Pontz Ave. and for land to site the high school nearby. Other parts of the estate were in turn resold for residential lots. The Castle sits on about 2 to 3 acres today. The Richards were retired when they took over the castle and they did rent out rooms to college students at Kansas State University.
I visited the Kimble Castle often as a young child and enjoyed many hours playing on the grounds. It does have a vault with a heavy steel door inscribed with the name of the Castle builder, Judge Kimble. The original limestone gate that fronted Pontz Ave. was donated to the City of Manhattan by my grandfather after my grandmother passed away. The gate has been moved and reconstructed in an area close to the Courthouse in downtown Manhattan. There are a few stone carvings on the Castle, but my favorite was of a lamb at the top of an outdoor staircase.
In the photos you show of the house being constructed in the 1880's, the quarry wall where the stone was harvested is in the background. This same quarry wall now serves as a roadcut for Pontz Ave. heading west out of town and east into town. My grandparents were not able to maintain the castle as they aged and when it was sold the subsequent owners restored it to its glory. The reason everyone in Manhattan knows about the Castle is because at one point or another, everyone of them has driven up the long driveway to get a better look! I counted 25 cars one day in Sunday in the late 1960's while I was playing on an old garden swing...my grandparents never minded the lookie-loos, it came with the territory of owning such an interesting old house...
On 3-6-06, I received E-Mail that said:
My wife, Anne, & I purchased the Castle from Jim Richards in 1990. Although I am a Doctor of Audiology now, I grew up in construction. These skills were put to good use for abut the first 10 years we owned the Castle. It was a magnificent structure but needed a lot of cosmetic work. We stayed strictly with period/original theme in restoring it. The Kimble Castle construction first started in 1894. Then in 1900 They added two more turrets and expanded the house. Thus, full construction of the home is considered from 1894 - 1904.
Judge Sam Kimble was the District Judge of Riley County for many years. A large section of his legal training was actually done in England. While over in Europe he viewed several old castles. Upon his return to the states, he decided he wanted to build a castle for himself. By all recollections of the Judge, he was eccentric. He actually built the Castle in his later years. Due to health issues, he never really lived long enough to get full enjoyment of the home. As Bobbi Kimble stated, the Two Moore sisters Purchased the home for 1 dollar (another story altogether) from the Kimble family. The Moore sisters were affectionately known as the "Old Maids." Jim & Bess Richards lived in the home for many years. It is no secret that a multitude of individuals approached Jim about possibility of selling them the Castle in his later years. He actually showed me a whole drawer full of notes and relater cards.
When I first saw the Castle (1976) I was fascinated with it. I found myself taking set running routs so I always passed it on my training runs while in college. Years later, Jim became a patient of mine. When we were discussing the home, he casually told me he would indeed sell the home to me. Knowing, all the individuals who had pursued the home for years, family members in line to inherit the home, and the fact that Jim barley new me....I was surprised. Jim's only explanation was, he felt Anne & I were meant to have the castle. Over the next few years (Jim lived in the carriage house for two years) I came to know Jim better. As like the original owner, Sam Kimble, Jim as well was quite the eccentric. Over a 15 year period, before purchasing the castle, Anne & I had collected a large amount of classic antique furnishings (including an old suit of armor). I always told her someday we would have the right home to put them in. As an interesting side note: When completing the construction of the castle in 1894, Sam, never finished putting on the embattlements on top of the three turrets? One can note from all early photos, he/they just simple placed square one foot by one foot stones all along the pathway where embattlements should have been placed. All three turrets crested out in proper fashion to hold the embattlements, but, simply were never put on? For some reason this "incompletion" always bothered me. In 1998 I took out some darting paper and a few reference books on caste structures. I found there were several different types (high/lows, crested ends, ect) that were historically used. I then drew-up the style and size I felt would be appropriate for my castle & installed same. Being careful to "face" the new rock to match & blend with the original structure. Upon completion of same, the castle finally looked proper & complete to me. \
About three years later one of Jims relation visited Kansas & the castle. She brought with her some of the old pictures & other things related to the castle. She also had some rough, original, drawings done by the judge depicting the castle. This picture showed the embattlements on the structure. Strangely, of all the different pattern combinations possible, they were designed exactly as I had made them. She told me she thought she was the only one who had ever had this drawing, how did I get a copy of same? I told her, I didn't, I simply drafted it up to suit as best I could. My wife & I have collected lots of old clippings & articles about the Judge & the castle. One such article stated: Sam Kimble was born in Ohio in May of 1854 (did not say where in Ohio or exact date). My wife looked at me a bit startled and said, Charlie, you were born in Ohio in May of 1954. I told her, of course......I came back to get my castle.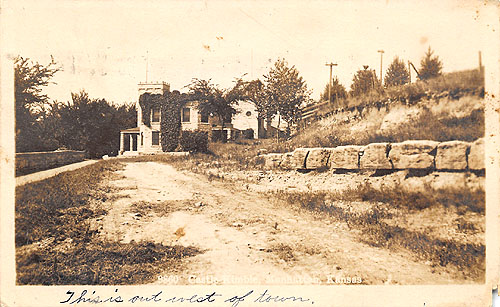 On 7-16-16, I received e-mail that said:
Here is another picture of Kimble Castle in Manhattan, KS from a 1907 postcard. We sell collectible & antique postcards on Ebay (80,000+Feedback+ We will be going back to your site again & again to learn more about the castle cards we sell.
P.S. Notice the ivy.
On 6-29-20, I received e-mail with this link with more information about Kimbal Castle - It's FOR SALE.
https://www.oldhouses.com/29028

Back to "Castles of the United States"

A special thanks to Charlie Gillum for sending the top photo and the information.