UNKNOWN CASTLE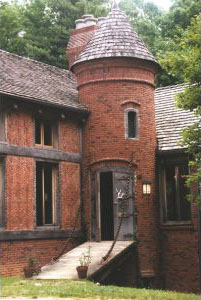 Someone notified me that there is a castle for sale on Ebay. I checked the listing and found out that:
It is a 6700 sq. ft. Medieval Castle on 3 Acres.
It has five real fireplaces.
Its walls are over 18 inches thick and made from hand-hewn timbers brought over from Mississippi.
It has 40 windows, most of which are 12 feet high.
The doors are made of massive timbers.
It has five bedrooms, six & 1/2 baths
The turret is complete with stained glass windows.
There is even a real drawbridge complete with large iron chains.
Later, I received E-Mail that said:
You can go to the eBay site at:
http://cgi.ebay.com/ws/eBayISAPI.dll?ViewItem&item=2341533775&category=12605

which will refer you to the real estate agent's site:
http://www.mountainpcmd.com/castle/index.html

Does anyone have more information about this? Does it have a name?
On 11-12-10, I received e-mail that said:
More/New Info on the Rabun, GA Castle
http://www.loopnet.com/Listing/14787334/734-Patterson-Gap-Rabun-Gap-GA/
Back to "Castles of the United States"