THORNEWOOD CASTLE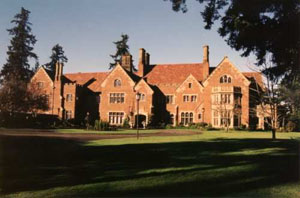 Thornewood Castle,a three-story manor home dating from the turn of the century, consists of over 27,000 square feet of living space, 54 rooms, including 28 bedrooms and 22 baths. It was built to the specifications of Mr. Chester Thorne, one of the founders of the Port of Tacoma, in beautiful Washington State. His fascination with the grandeur of the old English estate led him to design his dream house. Kertland Kelsey Cutter, one of America's most gifted architects of that era, converted this dream into the once-in-a-lifetime estate.
Thornewood Castle is constructed with concrete and steel on a solid three-foot-thick foundation. Exterior walls are brick, eighteen inches thick and the floors are ten inches of concrete. Construction took three years to complete, from 1908 to 1911, with many of the materials, including the brick, oak paneling, oak staircase and the medieval stained glass coming from a castle in Europe. Three ships were commissioned to transport these building supplies around Cape Horn to the Pacific Northwest. The cost of construction in 1911 was approximately one million dollars; today, this same structure is estimated at $30,000,000 to replace.
The red brick facing on the outside of the estate was imported from Wales. A massive grand staircase and solid oak doors, both wood-pegged by old world craftsmen, represents only a few of the interior finishes imported to the castle from a 15th century mansion in England. A priceless collection of rare artwork, hand painted onto glass surrounded by panes of crystal, are mounted in windows throughout the state. Created in the 15th to 17th centuries, they were previously owned by an English duke who spent 40 years collecting the lost art.
For more information or to reserve a suite
please call Deanna Robinson or Leann Ferguson
at 253-584-4393 or fax 253-584-4497
9 am to 9 pm PST

Later, I received E-Mail that said:
I just thought that you would be interested to know and you can add this little bit of information to your page. Thornewood Castle in Tacoma, Washington was used in the filming of Stephen Kings Rose Red. It is posted on their site.
Click here to visit Thornewood Castle
To return to this page, click on the BACK button.
Back to "Castles of the United States"