VIKINGSHOLM CASTLE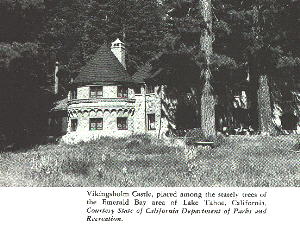 In 1928 Mrs. Lora Josephine Knight, purchased about two hundred acres of land at Emerald Bay in the Lake Tahoe region of California. It was there she decided to build a structure that would incorporate the atmosphere and design of an old Viking castle of stone construction. The castle was built in the shape of a horseshoe with two wings enclosing a courtyard. The main portion of the castle was designed on two stories with a square, three-story tower having a pyramidal roof. A circular tower, two-stories high with a conical roof, is located opposite the square tower at the other end of the castle. Excavation and foundations were begun in late August of 1928.
Mrs. Knight spent many happy years at Vikingsholm Castle, but she died in 1945, leaving her magnificent Vikingsholm Castle as a true monument of ancient Scandinavian architecture. Vikingsholm is now preserved in Emerald Bay.
Later, I received E-Mail that said:
Just a note of interest for Vikingsholm Castle in Emerald Bay California, there is an island located in the bay, and on the top of the little hill on the island there is a traditional teahouse constructed much like the castle. It was part of the estate.
On 4-28-05, I received E-Mail that said:
I went to Lake Tahoe with my family some years back and we went to a place (on the south shore, i think) called Emerald Bay. its one of the most popular places to visit in Lake Tahoe...because of Vikingsholm Castle. Its quite an interesting place, built for short people, i think (ironically, I'm pretty short) My family and I got to go on a tour of the place. Its only a mile or so, hike up a paved road.
So the story goes, there was once a wealthy widow named Lora Knight, originally from Norway, i think, who built her summer home there on the bay in the midst of the trees, and actually, it is very relatively close to the water. On the opposite side of the bay of course, where all the tourists swim. I assume that the beach right there by the house is privately owned. There was also a Tea House built on a tiny little island in the middle of the bay, i believe named Fannette Island, that you can sort of make out if you take the cruise around the lake. Its a good 2 hour cruise and its a lot of fun. About halfway through, they circle around the little island to go back in the direction that they came from. That's the best view you'd get, unless you took a boat out there on your own.
Daily tours are available, if you get there by 4pm. In fact, we almost didn't make it on time for the last tour. one of my brother's friends sprinted up there and bought us tickets. And, I'm not positive, because i haven't actually been up to Emerald Bay in a few years, but you should, or used to be able to explore the island during the day, getting there by boat.
On 9-1-10, I received e-mail that said:
Please include this link under Vikingsholm, CA, USA castles:
http://www.vikingsholm.org/
It's a beautiful web site with accurate information maintained by the CA State Parks. We were just there on a vacation to Lake Tahoe and the castle is still sits there in its quiet splendor. It is a mile hike down from the road and there is limited parking at the top and near by.
The hike back up seems like 5 miles, though! The hike and limited parking does have its advantages in that it cuts down on the number of visitors:)
On 7-16-11, I received e-mail with this link:
http://www.vikingsholm.org/foundation.html
Back to "Castles of the United States"

Many thanks to Scott McVey for sending in the picture and information.