KINGDOM CASTLE
Formerly BLOSSBURG CASTLE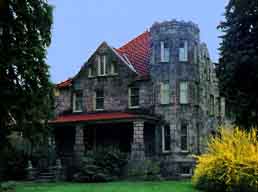 I received E-Mail that said:
There is a castle in Blossburg, Pa., on US Rt. 15, with a wonderfully crenelated tower that used to sport a cannon, and all brown stone construction.
Later, I received E-Mail that said:
In reference to the Blossburg, PA Castle. I used to live about 20 minutes from Blossburg. The castle is actually family owned in "downtown" Blossburg. You are correct that it used to sport a cannon. There are no tours available to my knowledge. I will be going that way in a couple of weeks and will see if I can gain any information about it. It is fairly small, in my estimation, as far as castles go, I was actually quite shocked that it was listed on your website as a castle, but it was always a lovely sight while driving through Blossburg.
Later, I received E-Mail that said:
I was surprised to see my home on your castle page, but am pleased to share what I know about the property.
The home was built in approx 1909 by a Harold Keiss, DDS. The architecture is victorian to arts and crafts transitional. The interior is all original oak (floors, paneled walls, wainscoating, pocket doors, open beamed ceilings). There are seven stained glass windows, and two fireplaces. The home has ample rooms, i.e., the living room is 15 x 30 with the additional 8 x 8 tower alcove attached. There are four bedrooms, two full baths, two sun porches, a front porch, and a rear deck. The third floor is a 30 x 30 great hall with a fireplace and the diamond-paned windows.
I am the fifth owner, and have restored many of its original features. If you are interested, the property is currently available for purchase.
Later, I received E-Mail that said:
I am writing to you on behalf of Johnny and Juanita Berguson, who are the current owners of the Blossburg castle. They purchased the building about two years ago, and have re-named it the Kingdom Treasures castle. Descriptions of the building on your website are accurate.
Back to "Castles of the United States"

Photo courtesy of Phil Bilzor