LE PETIT CHATEAUX CASTLE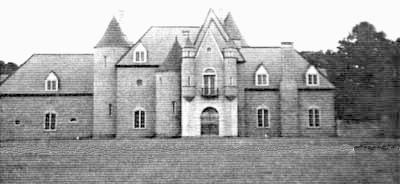 I received E-Mail that said:
Le Petit Chateaux de Luxe (The Small Luxury Castle) "French architecture and beautiful setting give one a sense of being in France right here in Louisiana". Landscape construction started in 1955, later construction of the chateau started in 1962 and continues. Open for tours.
Later, I received E-Mail that said:
I recently visited the castle in Louisiana called "Le Petit Chateau de Luxe" (The Small Luxury Castle). It is located in Mermentau, La. which is located right outside of Jennings, La. You must make an appointment to tour because it is not visible from the road. It is, however, visible from the Mermentau River. The admission is $4.50 to get in. It is a very beautiful little castle. It was not yet completed inside when i was there. The rooms that were completed had a nice antique look to them. While in France, Mr. Desormeaux (the creator of this castle) found 3 of his favorite castles and combined ideas to create this one. He is no longer living, but his son is now the owner and is still in the process of finishing this castle. I was told when the castle was finished, it would be a bed and breakfast. The street this castle is located on is Castle Cove Road, which is a little dirt road with a big gate at the end. No one can enter unless you have an appointment. The castle is worth going to see.
Later, I received more E-Mail that said:
I was married at Le Petit Chateau du Luxe on August 24,1996. It was absolutely breath taking. There are two entrances to the castle. One from the road the other from the river side. The picture you have shows the riverside. The castle was still under construction.
Later, I received E-Mail that said:
Hi, I was just looking for links to my Mom's maiden name, DesOrmeaux, and I happened upon the little castle. It was originally built by my Grandfather's cousin. I went with my Grandparents to visit there when I was younger. The castle was still under construction then. We were talking with my Grandfather a couple of months ago about the castle. The Lake Charles, LA American Press newspaper ran a story about the little castle last year in 1999.
The following are some excerpts from the article that appeared in the Lake Charles American Press.
Lake Charles American Press 11/15/98
story BY DORIS MARICLE JEFF DAVIS BUREAU
What the Desormeaux family calls home is the 15,000-square-foot French-style Le Petit Chateau deLuxe (''The Small Luxury Castle'') overlooking the Mermentau River.
Located on Castle Cove Road off La. 92, six miles southeast of Jennings, the chateau sits on a sprawling 19 acres surrounded by large Evangeline oaks, magnolias and elm trees. The property has been in the Desormeaux family for more than 150 years and continues to be expanded.
Construction on the chateau began in 1962, combining the designs Desormeaux's father drew from four different castles he had seen in France. The front section, which faces the Mermentau River, resembles a fortress with a watchtower and small, inaccessible windows. It took six different crews 10 years of bricklaying and about 300,000 bricks to complete the three-story chateau and surrounding solid brick walls.
Louis Desormeaux died in 1991, but construction continues today on his dream chateau. Future plans include a surrounding village with shops and a walkway to the Mermentau River with a formal garden surrounded by the moss-covered oak trees and magnolias leading to the river.
Desormeaux, his wife and three children moved into the chateau shortly after his father's death to protect the property from being vandalized. They occupy six of the castle's 30 rooms.
Inside features include a formal dining room, breakfast room, wine cellar and a large kitchen and pantry with a 200-year-old black walnut table from France. Three functioning fireplaces all with hand-carved marble mantels dating back to the 16th century also bring life to the chateau.
The architectural oddity opened for tours four years ago.
For more information contact:
Philip Desormeaux
P.O. Box 399
Mermentau, LA 70556
Telephone (318) 783-3641
Later, I received E-Mail that said:
I'm 30 years old now, but when I was 12, I visited the Petite Chateaux in Mermentau, LA. I'm told that I'm a descendant of the original owner. At the time it was still under construction, and I can distinctly remember a huge gap in the entrance. It was a deep crevasse, filled with water. Almost an inner moat. This was back in 1984. Imagine my surprise and delight when I found your site, and the castle's near completion.