ELSINOR CASTLE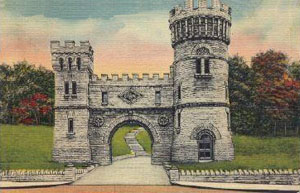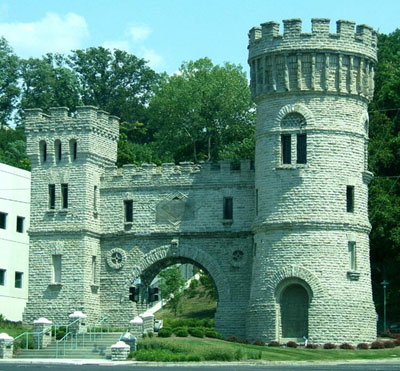 This is a photo of Elsinor Castle in Eden Park, Cincinnati, Ohio.
Later, I received E-Mail that said:
Elsinore Tower, located at Gilbert Avenue and Elsinore Place, erected in 1883, was designed by Samuel Hannaford to commemorate a Shakespeare Festival being held in Cincinnati at the same time. It now serves as a valve house for the Cincinnati Water Works.
Go here to see another photo:
http://www.vintageviews.org/vv-3/structures/pages/sts04_002.html
To return to this page, click on the BACK button.
On 4-16-10, I received e-mail that said:
Here is a photo I took of Elsinore Castle in Cincinnati in 2005.
On 11-26-12, I received e-mail that said:
I am a native Cincinnatian, and wanted to correct a piece of mis-information on the "Elsinor Castle" This building was always designed as a pumping station, I do not know anything built for a Shakespeare festival.
Elsinore Tower is said to be inspired by Elsinore Castle in Denmark. Built in 1883 it was actually a valve house for the reservoir in Eden Park. Its purpose was to control the amount of water from the reservoir to the city basin below. There are steps behind the tower leading up the hill to the park, art museum, and a bandstand located on top. Later a roadway was constructed thru the arch turning right and going up to Mount Adams and from there to Eden Park. The reservoir valves are now housed in a vault beneath the tower.
This building sits about 1/2 way down from the top of Mt. Adams, one of the "7 Hills" of Cincinnati. (The rest of Ohio may be as flat as your hand, but everything in Cincinnati is up or down hill.) The building sits at the edge of what is now called Eden Park, which has a long and interesting history http://www.cincinnativiews.net/mt__adams.htm For many years the city maintained a reservoir http://www.cincinnativiews.net/images/Mt%20Adams%20east%20view-1.jpg , http://www.cincinnativiews.net/images/Reservoir-1.jpg , http://www.cincinnativiews.net/Eden%20Park%20part%203.htm , close to the top of the hill, and the castle served as a pumping station,since it was fed by gravity. My understanding is that this was for the fire department. The water "tower" still stands in the park. The reservoir was drained many years ago, but the remains can still be seen, as the cleared space http://edwardphotos.zenfolio.com/edenpark/h2132A7E0#h2132a7e0 is now used as parkland. One of the rumors for it's demise was that murdered mobsters took their last swim there, though one has to take this with a grain of salt, considering the fact that you can see the river from there. Unless they were extremely lazy mobsters.
Does anyone have more information?
Back to "Castles of the United States"

Research for this page done by Phil Bilzor.
Second photo sent in by Susan Martin.