NICKERSON CASTLE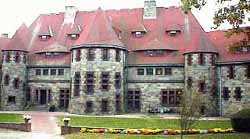 Nickerson Castle (now just called "The Castle") was built in 1890 for railroad tycoon Albert W. Nickerson. It was designed by Boston architect H.H. Richardson. Nobles school bought it in 1921 and now uses the castle as a home for dining services and as a place to live for boarders and faculty members.
Later, I received E-Mail that said:
I lived in Nickerson's Castle a/k/a "The Castle" at Noble & Greenough School in Dedham, Mass. from Sept 1952 to June 1953. Most of us were aware that there was a secret passageway from the entryway to the headmaster's office (your second level) to his living quarers above at the right end of your photo(until a headmaster's residence was built in the late fifties. I assume that the destination is now occupied by a senior faculty member and his family). A second secret passageway descending was rumured to the east end (right side of photo) of the bottom level. This nineteenth century monster was built in the European tradition by a man with very deep pockets in the days before income taxes., there is a great hall (in the middle of the second level of your shot), a large dining area to its left in your photo and what was the school library to its right in your photo (until a new building was added to the north to house more classrooms and the library).
On 11-23-11, I received e-mail that said:
Albert W. Nickerson first arrived in Dedham in 1877. He was the president of Arlington Mills in Lawrence, MA and director of the Atchison, Topeka and Santa Fe Railway where he took an active part in community affairs and made generous donations to charitable causes. Nickerson bought a parcel of land in Dedham, a 600-acre (2.4 km2) estate on the Charles known as Riverdale. The estate was the boyhood home of ambassador and historian John Lothrop Motley. In 1886 he commissioned the architectural firm of Henry Hobson Richardson to build him a castle on the estate and hired Frederick Law Olmsted's firm to do the landscaping. The castle has a number of interesting architectural elements but its most famous is by far its numerous secret passages and legendary underground mazes and hallways. It was built on top of a rocky hill so that the Castle and the River appeared magically to carriages or cars arriving through the forested Pine Street entrance.
Back to "Castles of the United States"

Research for htis page done by Phil Bilzor.