BONNIE BLINK CASTLE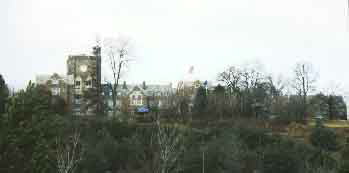 I received E-Mail that said:
There is also a large true castle in Hunt Valley, Md., visible from Interstate 83.
Later, I received E-Mail that said:
The Hunt Valley castle in Maryland is currently being used as the Masonic Home of Maryland. It is on Shawan Rd. in Cockeyville. I remember reading somewhere that it was built by a Baltimore buisnessman as a private home and was expanded after his passing as per the conditions of his will.
Later, I received E-Mail that said:
I just got back from N.Y. First of all, I spent 30 min. just finding the gate to Cockeysville! There was a guardhouse with guard, iron gates topped with spikes, and a proximity activated alarm that I set off upon pulling up to the gate. Lots of excitement. After chatting with the guard for an hour (I was denied access), I was given the address of the chief of security and a number to call for a brochure on the castle. It is a retirement home and care facility for Masons. It has been added to several times. I was allowed to walk past the gate for a few photos, and took a few others from other vantage points. The guard said that the castle was sent over from England, but logic tells me that she hadn't a clue...the place is huge!
Later, I received E-Mail that said:
I grew up in Cockeysville Maryland, and can give you some info on "Bonney Blink". It was originally built in Scotland, and was dismantled and brought to it's present location and reassembled there. I don't know when, or just what the circumstances were. But your information about it being brought over from England is true, except it's from Scotland. It is located directly uphill from the Hunt Valley Mall.
More local color: the land where the mall sits used to be farm fields, belonging to Bonnie Blink, (pumpkins and corn) when I was growing up there. We used to ride our bikes over, and look for Indian arrowheads in the fields after they plowed in the spring. There must have been an Indian village there at one time, because we used to find some occasionally.
Later, I received E-Mail that said:
I happened upon your web page devoted to the Bonnie Blink Masonic Home in Cockeysville, Maryland. I grew up in Cockeysville, Maryland & am familiar with the Bonnie Blink Masonic Home. Actually, at age 14 (I'm 47 now) I started my first job at Bonnie Blink serving it's residents dinner in the Dining Room. I attended Cockeysville Junior High School at the time. The school bus would drop me off on York Road at the end of the street that Bonnie Blink is on. I would walk up the road & then walk the long uphill driveway to the building. (At that time there were no gates or security at the street level.) As you walked up the drive, to the right was a huge field of pumpkins. Upon arriving at the building, I went into preparation mode.... placing dinnerware, silverware, etc on tall stack carts. From there I went into the dining Room & placed the items on the tables. The residents would enter & take their seats & then I would return with bowls of food placing them on the tables. After dinner, clearing & cleaning the tables was the next order of business.
I was not the only girl working after school there. There were, I believe, 6 of us. We also befriended a woman in the Infirmary named Cassandra. We visited her after work when we finished up early. She really enjoyed us taking time to visit & talk with her.
It was a wonderful opportunity & a breathtaking building and location. After work, we'd wait out front for our rides to pick us up. It truly was one of the most beautiful places I've ever seen. I even went back about 7 years ago & found the security extremely tight. I was turned away at the gate, but they did give me a phone number to call & speak with someone that could give me permission to visit. Thankfully I was granted permission & immediately rode back to Bonnie Blink, right through the security & up to the top. I felt very peaceful at the top, but I also had utter respect for the mission behind the Masonic home. I just took some photo's & left. The view was totally different than the way it was back when I was 14, but then again so is everything else. The one thought I had though was how remarkably reverent the castle still was even with all the growth in that area.
I never forgot Cassandra and I'm very glad she had such a wonderful place to be when she needed it. The same for me too. Bonnie Blink will always hold a special place in my heart.
On 3-21-05 I received E-Mail that said:
This castle is part of the Grand Masonic Lodge of Maryland where construction began around the time of the great depression. There is a web site for the Grand Masonic Lodge of Maryland where you can view pictures of various things, it is very accessible and one only needs to go visit to find out more about this wonderful place, it is a Masonic Rest Home that one must be or related to or a mason to reside there. http://www.mdmasonichomes.org/
Back to "Castles of the United States"

Photo courtesy of Phil Bilzor