COGHLAN CASTLE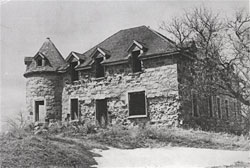 On 1-5-07, I received E-Mail that said:
In case you are interested, I have a submission for you for a state that you have no castles listed -- North Dakota. Coghlan Castle is not palatial and it is in disrepair, but it is also grand and beloved: http://www.prairieplaces.org/2003_endangered.cfm

For more information contact Becky Leonard at 701-477-3149.
Back to "Castles of the United States"