CROYDON CASTLE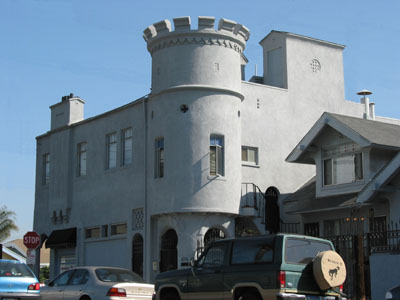 I received E-Mail that said:
I drive around Long Beach, California quite a bit as part of my job and I keep passing this one castle on the corner Seventh Street and Orizaba Avenue. I seem to remember the name of the castle as Croydon Castle. I think it was built in the late 1920's It's a three-story keep with a crenellated turret on one corner and a kind of chapel looking one-story residence off to one side. The upper floors of the keep are used as apartments and the ground floor is for business. There seems to be quite a turnover of businesses at this location, nothing stays more than a couple of years. The name may have come from an article a couple of years ago in the local paper, the Long Beach Press Telegram.
Later, I received E-Mail that said:
Just after I sent you what little information I had about Castle Croydon, I found this webpage: http://www.beachcalifornia.com/lbhis5.html
Both cover historical buildings in Long Beach and have very good descriptions of the castle. The first one has a small photo taken from the front corner of the castle and across the street. If I can borrow a digital camera, I'll get a better picture for you. <
Back to "Castles of the United States"

Information, photo, and links courtesy of Al Turek.