OSBORN CASTLE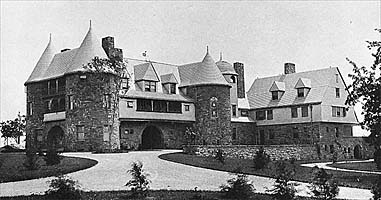 The Charles J. Osborn residence, in Mamaroneck, N.Y., was built in the style of Norman castles of the eleventh and twelvth centuries. The architects were McKim, Mead, and White. Completed in November of 1885, the house, grounds, and gatehouse cost over $400,000. The house measures 144x153 ft. The interior features elaborate woodwork. Although the reception room uses only modest painted pine, the dining room is made of Santo Domingo mahogany, and the parlor is finished in white mahogany. Oak was used for the two-story great hall, which is over 25 feet high. A leading architectural critic of the time called the castle "one of the finest homes in America".
Osborn was the private broker of tycoon Jay Gould (the owner of Lyndhurst castle), and his C.J. Osborn & Co. survived the panic of 1873. He retired in 1883, but died at the age of 49 in November of 1885, having lived in the winter wing of the newly completed castle for only three days before he died.
The castle is owned today by the Mamaroneck Beach, Cabana, and Yacht Club. A fire in 1971 destroyed some of the original building.
On 8-9-12, I received e-Mail that said:
I am one of the owners of Mamaroneck Beach and Yacht Club, which is the current occupant of the Osborn Residence by Stanford White. Your entry is entirely correct, except for the name of our club, which was changed in the late 1970's to Mamaroneck Beach and Yacht Club.
Back to "Castles of the United States"

Picture and information courtesy of Phil Bilzor.