WORELAND CASTLE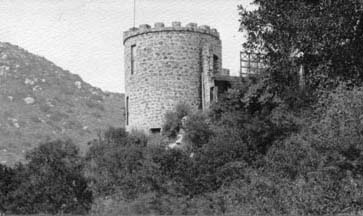 I received E-Mail that said:
Just north of Escondido, California, past Laurence Welks on Interstate Hwy 15 there is a road called Gopher Canyon Road. Off that exit is another road called Old Castle Road and a castle tucked back up in the hill.
Later, I received E-Mail that said:
It is a private home tucked back in a valley. It is an old house with a castle like turret. The turret walls are over three feet thick and have several windows. The turret is a study. I was in this home doing some repair work. The current owner is the daughter of the builder and she gave me a tour as well as the info.
Later, I received E-Mail that said:
I ran across your question about the castle on Old Castle Road near Escondido, California. It was built by my great grandfather, Isaac Jenkinson Frazee in 1893. He lived there with his family until 1927. He called the castle "Woreland Castle." A house was built around it some time later, but the castle tower is still visible. It is a private residence now.
Isaac hired a Scotch stonemason to help him build his castle. He wanted a castle that would recreate what he imagined to be the home of his Scottish ancestors. Only one tower was ever built, but I have his original drawing, which shows he planned a somewhat larger structure.
Isaac Frazee was a noted Southern California artist, writer, and poet. He was also an expert on Native American culture. In a natural amphitheater below the castle, he staged an Indian pageant he wrote himself. It was held as an annual event, with nearly 1,500 attending each performance.
Craig Walker
On 6-4-11, I received this link:
http://www.valleycenterhistory.org/WorelandCastle.htm
Back to "Castles of the United States"