UNKNOWN CASTLE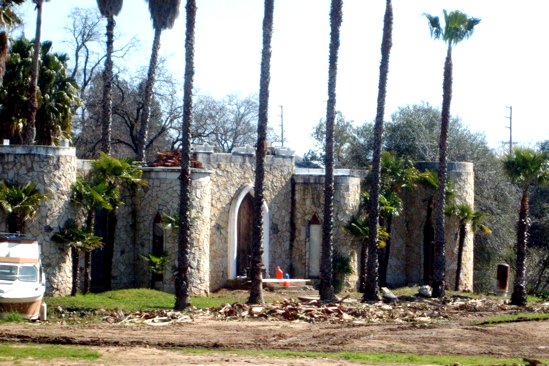 I received E-Mail that said:
There is a "castle" in citrus heights or roseville (or somewhere in that 10-mile stretch of interstate 80), california that is, i believe, a private residence. i searched for it online for a little while today, but couldn't find a thing. it is visible from the freeway (i-80) on the right while traveling eastbound. it's pretty recent (that's relative--i'm 27, and i definitely remember it as being new, but that was years ago).
Later, I received E-Mail that said:
I see someone wrote about a castle in Roseville Calif, or Citrus Hights, (same place). There was a home that someone was making a castle out of about 15 to 20 years ago, with a moat and all. The last time I went past it, is was turned back into a standard home again.
Later, I received E-Mail that said:
There is a castle on I-80 just north of the river side exit still owend by Jerry Lees family.
On 10-22-07, I received e-mail that said:
The castle on interstate 80 in Roseville Calif. was started in the 1970's by an eccentric local hairstylist who had a few beauty colleges/shops in the area. I have not been in the area in 10 years but I grew up there and am now 44. The castle/home was below/to the side of the freeway overpass at Cirby way and was always something I noticed EVERY TIME I passed by. I am certain it is still there in some form or other.
On 3-4-08, I received e-mail that said:
Jerry Lee Owned the castle off of hwy 80 when I was a kid. He started to build a real castle home. He didn't finish. What you see on the freeway is a wall that looks like a castle a regular home sits behind it. This info was givin to me by my aunt a friend of the Lee family.
On 1-1-09, I received E-mail that said:
I'm attaching the castle home here. It has been VERY hard to get a photo of it because it's off the freeway, and there's no easy pulling over!
Back to "Castles of the United States"

A special thanks to Alison Schmidt for sending the photo.