UNKNOWN CASTLE ??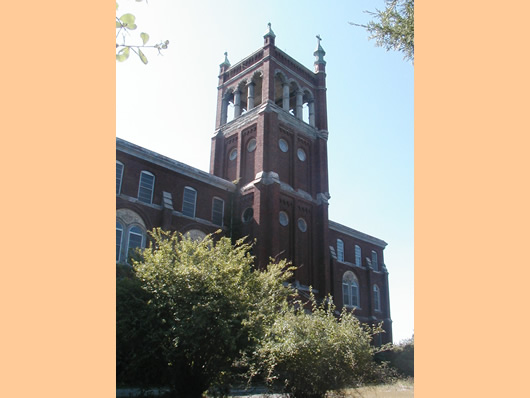 I received E-Mail that said:
WHILE FISHING AT THE JAMES RIVER AT WEST VIEW IN RICHMOND, VIRGINIA I HAD NOTICED FROM A DISTANCE A CASTLE FROM THE RIVER VIEW ON THE BOAT. IT POSSIBLY COULD BE ACCESSED FROM ROCK CASTLE ROAD? ARE YOU FAMILIAR WITH THIS ONE? IT IS JUST BEAUTIFUL!!!!
Later, I received E-Mail that said:
I believe that the "unknown" castle listed for Richmond, VA could be either Agecroft Hall [http://www.agecrofthall.com/] or The Virginia House [http://www.vahistorical.org/vh/virginia_house01.htm]. I visited both of these exquisite castles when I lived there. They are 15th & 16th century buildings which were dismantled in England in the 1920's, then crated, and reassembled in America, on the banks of the James River.
These are both beautiful buildings, but in my opinion, they are both more of what I would call a mansion than a castle. It would be nice if they had crenelations on them.
On 5-12-09, I received e-mail that said:
The castle that was described sounded more like St. Francis de sales "Rock Castle" or St. Emma "Belmead" military academy. When I was younger, my mother and I came across the facility ground and saw St. Emma. My mother ended up contacting the people who were the grounds keepers, and we ended up getting a tour of the mansion. It was quite breath taking to say the least.
Both of the facilities where originality built in the late 1800s to coupe with segregation, and made African American schools. Somewhere during the 1970s the schools where no longer used, and over time most of the grounds where demolished. St. Francis de sales, was the girls school, whilst St. Emma was strictly boys.
Finding things like this has always interested me, and recently I had heard of Richmond's "Lost City." If you haven't heard of it, check it out on Google, it's kinda cool.
On 2-13-11, I received e-mail that said;
I can tell you that the castle is indeed St. Francis de Sales Rock Castle in Powhata, Virginia. It was used as a Mission Training Center and my mother used to take me their every Tuesday and she would cut hair for the youth there. I also went to camp their two summers in the 80's.
Back to "Castles of the United States"