ROYAL ORCHARDS CASTLE - SCOTT CASTLE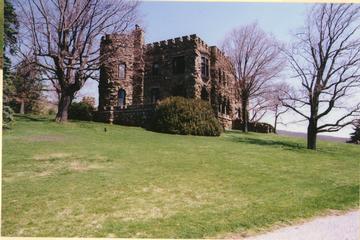 I received E-Mail that said:
I live in Virginia and There's this place called Scott's Castle, they used to give tours but I guess the Scotts wanted their privacy. I don't know much about this castle but many people do. It is located on Afton Mountain in virginia, I think it' s right on the border of Albemarle County and Nelson County. The Scotts are the people who live there and are the ones that made all the scott brand name stuff, like scott tissue.
Later, I received E-Mail that said:
Scott's Castle is in Afton, VA on the north side of I-64 just east of Afton on top of the mountain and is not visable from the interstate. The driveway enterence is on Rt. 250 and there is a narrow bridge over I-64 to get to the house. I know the grandson of the owner and will try to get a photo. I have never seen it myself, but have heard about it. I don't know if this is the Scott products family, but it is the Scott family of the Scott & Stringfellow stock brokers here in Richmond.
Later, I received E-Mail that said:
I stumbled across your web page trying to find some info on Scott's Castle (how ironic). I'm sorry that I cannot give you much more info than you already have, but the castle does exist. The route number you take from Rt. 250 is F182, and it turns into a private road after you cross over the interstate. I know this because my wife and I sat at the end of the road debating on whether to ignore the "No Trespassing" signs and drive up to it. You can, however, see it from the interstate (westbound, best view in the fall when there are no leaves on the trees). I knew a guy that had a few aerial shots of it about 15 years ago, but I'm sure they are long since gone. They did use to offer tours, but the story I heard was that some items turned up missing after a tour, and that pretty much ended the whole tour thing. I almost certain that it is located in Nelson County. The border between Nelson and Augusta (not Albemarle) is just a 1/4 mile or so away from the road. Like I said, this probably won't help much, but I figured I'd pass what little I know on. Maybe I'll stop on the side of the interstate some time and try to snap a picture of what you can see.
Later, I received E-Mail that said:
Scott's Castle, is located in Albemarle County, VA., accessible by State Rd. F182 off of Route 250 in Nelson County. There is a bridge over Interstate 64 just for this estate, and immediately after crossing the bridge you hit a very serious gate; they are now sincere about their privacy. The road continues some distance until it arrives at the estate in Albemarle. I was hiking with a friend around the Appalachian Trail some time ago and accidentally wandered onto their land. We were met by a gentleman with a BIG rifle and were told we were WAY off the Trail and had to go West off their property. We were close enough to see some outbuildings, beautiful architecture, but we didn't see the main house.
Later, I received E-Mail from Robbie Lawson that said:
I emailed you several months ago about Scott's Castle in Afton, VA. Well, I was driving past the road that leads up to it today, and figured I would try and find some info on it on the internet again. I noticed the mailbox at the end of the road had the name "Royal Orchard Land..." something or another... I can't remember. A search on YAHOO brought up a website for the Virginia Film Office, where they have tons of pictures of the estate (which is apparently called Royal Orchard Estate), including lots of interior shots, and the amazing views of the Shenandoah Valley. The link below should take you to the site, and just click on the thumbnail labeled Royal Orchard.
This link should take you to it http://www.film.virginia.org/locations/listonepage.asp?SubCat=294&SearchID=17022&LocationID=286&MacroCat=7
Later, I received E-Mail that said:
I first became interested with this castle a few months ago. My friends and I live in the area and we drove up there. The gate was open and we ignored all the signs. We got a glimpse of it but then we saw a car driving down the winding road. Well when we went back up to our boarding school Vermont my friend was talking about it. Then this kid that was at the table chimed in and said that his family owned a castle in Afton, we realized it was the same one. So a few days ago this same kid came down to the castle and we were able to go in. It is beautiful but it has tons of security.
It is actually not Scott's castle, the family had never heard of that. It was just a name the locals must have given it because the rumor was that everything was brought over from Scotland. The family calls it Royal Orchards. It is really a sight to see but I don't recommend trying to go up there without going with a family member because it is probably not that smart. We spent the day touring it and it is true that they once let a tour group go in but soon after items were taken. I hope this let's you know a little more about the place. Just to clear things up, it is not the Scott's tissue family.
Later, I received E-Mail that said:
I am writing to you to give you some information on Royal Orchards. The "Castle" was built by the Scott family of Scott & Stringfellow, a Stock Brokerage House in Richmond, Va. as a summer retreat. Nothing to do with Scott tissues products. It is surrounded by a great deal of land and many outbuildings, owning much of Afton Mountain located outside Charlottesville, Va. Yes, it had beautiful orchards that were still worked. The grounds are beautiful.
When growing up, I had the pleasure of knowing the family connected with Royal Orchards and spent a weekend there. It is massive and is appropriately furnished with suits of armor, tapestries, shields, swords, etc. I particularly remember a huge fireplace in the dining room that I could stand up in and that had stone benches built on either side of it inside the fireplace (a good place to keep warm). A tradition of the place was to wake up at the sound of a bell in the mornings and take a plunge in the stone swimming pool which was along side of the winding driveway up the mountain and was fed by a chilly mountain stream. Believe me, it was a real eye opener !!! I have really fond memories of the place and was fascinated by it all. I visited Royal Orchards (but did not stay) several times after that while at the University of Virginia.
Later, I received E-Mail that said:
Apparently there's more to this castle than what's been mentioned. A co-worker and his wife late last year went across the bridge to a gate and were met by armed guards dressed in black jumpsuits and sunglasses. They appeared to be government guards. Rumor holds (strictly rumor) that the castle was purchased by the US Government some time ago.
Later, I received E-Mail that said:
My father was from Charlottesville and mother from Staunton. We used to live in Richmond VA. until I was 10. When I was growing up, born in 1959, we took numerous trips to Virginia before I-77 was built and had to go up 64 and past Afton Mountain . My father was in the boy scouts back in the 40's and came across this castle/home. He always spoke of it and said that it was built by and was the home of Randolph Scott the Actor. And back in the 60's it was visible from the road, we used to drive by there all the time.
Later, I received E-Mail that said:
I was reading some of your information on Royal Orchard in Afton, Virginia. It is owned by the Scott family. I have had the pure pleasure of vacationing there twice in the last few years. The property got its name because many, many years ago the apples that grew there were boxed and shipped to the Queen of England, hence, Royal Orchard. The place is beautiful!!! It is strictly owned by the offspring/family of Jonathan Scott.
Well, it appears that this castle was built either by the person who made Scott Tissue, the Scott family of Scott & Stringfellow, or Randolph Scott.
Later, I received E-Mail that said:
I found your website while doing a search on state road F182 in afton Virginia. I found the information on "Scott Castle" very interesting. I am native to virginia and had never heard of it before. I continued to search and came across the following article on the National Park Service's website.
http://www.nps.gov/shen/3b2a2.htm
Later, I received E-Mail that said:
I am currently rereading a book written by a cousin of Mary Wingfield Scott, entitled, "Never ask Permission." This book, written by Mary Buford Hitz, is biographical of Mrs Hitz's mother Elisabeth Scott Bocock; Mary Wingfield Scott's partner in architectural preservation and the founding of Historic Richmond Foundation, and one of the five children of Frederic Scott who was the founder of Scott & Stringfellow Brokerage Firm in Richmond, Va. It is Frederic Scott who was responsible for having built the Castle listed on your website, on the ground of what once was a commercial apple orchard and which is called, simply, Royal Orchard. "Never ask Permission" is a thoroughly enjoyable experience for anyone interested in history and the lives of those blessed with the opportunity to shape it; as well as providing insight into the preservationist and, by association the social history of Richmond.
Of primary interest, the book is filled with references to and also features an entire chapter focused on the existence of Royal Orchard, the Scott family's vacation home on INCREDIBLY BEAUTIFUL Afton mountain. These references and the devoted chapter not only give insight as to the reality and history of this beautiful Castle, but also to the lifestyle of those who would have historically dwelt in such a home in royal, court, or manor life. Also within this book are a wonderful photograph of the front facade of Royal Orchard, as well as one of the Scott family posed along the mountain spring-fed swimming pool, ca. 1935. There are additional references in this book to and other dwellings and structures built by family members on the estate during it's history, as well as descriptions of the vistas approaching the estate.
Later, I received E-Mail that said:
After having driven by the Royal Orchard ("Scott") castle on I-64 near Afton, VA for many years, I decided to find out more about it. This past week I had a rare opportunity to see it from the highway as we passed by. I guess I looked up at the right time and without any leaves on the trees, I saw the tops of several(?) buildings. Anyway, thanks for all the fantastic info on your website, I have really enjoyed learning the truth(?) about it. The reason I'm writing is to pass on a URL for a satellite photo of the castle. It's on Microsoft's tera server. Enjoy.
http://terraserver.homeadvisor.msn.com/image.aspx?t=1&s=10&x=3453&y=21068&z=17&w=1
Later, I received e-Mail that said:
I'm not sure how I came across your site, but my family is friends with the Scott family and as a child I spent many long weekends at Royal Orchards. It is truly an amazing place to behold.
If you imagine what a true castle looks like, Royal Orchard fits the bill. Yes there are Knights in Armor in the front parlor and gargoyles to watch over everything. The home is amazing and I will never forget my time there.
The Scott family still owns it and to clear up the mystery, it is not the Scott Tissue family, but rather the Scott investment bankers from Richmond.
Later, I received E-Mail that said:
I was born in Waynesboro, VA, but now live in Indiana. My mother and uncles (from Afton, VA) had mentioned to me as a child that there was a castle on the mountain, but never went into much detail. I am grown now and have a son who is 26. A couple of summers ago while visiting in the area he wanted to see how far we could get up the drive to the castle. We turned off of Rt 250, crossed over the interstate, and proceeded to a gate. The gate was open, but there was a sign that said the family was there and to respect their privacy. We got out of the vehicle and just looked up the side of the mountain to see if we could see anything. We could not see any buildings. We did see something among the trees that looked like a security camera. We didn't spend too much time there. We drove down the mountain and stopped at the Country Store at the foot of the mountain. We hadn't been in there too long when in walked a man -- who looked totally out of place -- in a white shirt and tie. He looked around briefly, went and stood next to my son, and then left. We concluded that he was security from the castle and had followed us down the mountain. It was obvious he wasn't in the store to browse or buy!
Later, I received E-Mail that said:
I recently stumbled upon your site and went directly to the pictures of Scott's Castle (Royal Orchards Castle) on Afton Mtn. I used to live further down the mountain across route 250 but could see the tip of their flagpole above the trees in the distance while sitting on my back porch. I tried to get close to the castle many times but feared all of their signs about trespassing and prosecution! In the fall, I could go along the skyline drive behind the castle and get a decent view without the leaves in the way, but never got the chance to go onto the grounds.
I read how they used to have tours, but I believe that stopped long ago. My mother-in-law went there as a child with her father, but that was a long time ago. I know they are very particular about their castle because a few years ago they had someone fall and get hurt. When the ambulance crew got there to help, (Anderson's ambulance service) they had to take off their shoes and put on slippers (they had at the entrance way) before going in to assist! Many people who live nearby still have no idea it exists atop the mountain! The clearing atop the mountain is massive and can be seen for miles across route 250 and highway 64, yet the building is sheilded by the trees!
On 6-24-05, I received E-Mail that said:
Iam a friend of the Scott Family and I just wanted to clarify a few things:
They have no relation or connection with the Scott Tissues Co. except for use of their products. No relation to Randolph Scott either.
The "Castle" was built in the early 20th Century as a summer retreat. The house was not brought over from Scotland. The pool is freezing cold and a welcome awakening in the morning.
The family used to offer tours but after a robbery, we were forced to close the estate to the public. Please take notice to the trespassing signs, gates, cameras, and watchmen. PLEASE RESPECT THEIR PRIVACY.
On 8-20-06, I received E-Mail that said:
I learned a bit about Scott's Castle in Afton -- Royal Orchard -- on a recent visit there. Frederic Scott and his wife built the house from 1911-1913, taking buying trips to England to purchase the suits of armor, tapestries, and other furnishings that decorate the castle. It is now owned by a corporation that comprises his 150+ descendants, and used for family vacations, etc.
There are 15-20 bedrooms, all with a different name that often reflects the room's view or decor, plus the former servants' quarters, which are now used for additional bedrooms.
Above Mr. Scott's desk (he was the first Virginian to hold a seat on the NYSE) is a row of bells, which he used to summon children if they had a phone call (the house phone was located at his desk).
There are several outbuildings, including a carriage house/barn (with six small stalls, and a small tower) and a regular house (i.e. not a castle).
Mr. Scott insisted that all the stone used for the castle be taken from "facing" or exposed rock -- i.e., stone that was not dug up or pulled out of the river) -- hence the really rugged surface of the castle!
One of your earlier posts says that the castle has a view of the Shenandoah Valley -- I believe that it actually overlooks the Albemarle/Rockfish side of Afton Mountain. We went up to the house and then later went from the house to the top of the mountain, but I don't think we actually crested the top of the ridge -- i.e., we stayed on the east, or Albemarle side.
On 2-18-07, I refceived E-mail that said:
I am writing concerning you Royal Orchards Castle in Afton, Virginia. I have lived in this area all of my life, and have know about this castle for most of it. Up until I was about 17, all that I ever heard about it seemed folklore from my dad. One summer before my my senior year, (1984) I was working for a local 'rent anything' company. I delivered whatever and wherever. Chairs, tables, and tents were popular party or banquet items that were often rented. One day, we had a large delivery of tables and chairs to be delivered to the castle. At the time, I remember not knowing what Royal Orchard was, but I followed the directions given to me. As I drove up the winding road, all that is visible is the surrounding trees thick with foliage, when suddenly, through the trees, you are given a very quick, and brief view of a castle. The road continues to wind, and you receive no more views until you pull up in front of the castle. After your first glimpse, you see the stone swimming pool on the right side of the road that is feed by a steam. When we arrived there for our delivery, a landscape crew met us. One of the young men working in the crew was someone that I knew from high school. He worked there full time on the grounds. I expressed my amazement at the castle, and he explained that most of the family lived in the other cottages that were beyond the castle and out of our view. I don't know whether he meant that they lived full time, or whether they stayed there as a retreat. He took us inside for a impromptu tour. Had I known then of the extraordinary significance of what I was seeing, I certainly would have spent more time looking at everything. But we were young, and quickly took a look around. I do remember at least two suits of armor, and very high ceilings. Near the ceilings, I remember seeing gargoyles. I also remember seeing very and ascending a very wide staircase, but I didn't go any further than the top of it. In the back, was a very large garden, which my friend helped maintain. He said that the grounds included 8,000 acres.
The location that you have been told is correct, as it is in Albemarle County. However it is VERY close to both the Nelson county border, and the Augusta county border. The castle and grounds are actually located between Interstate 64 (about mile marker 102 or so), and the Skyline Drive. I remember being told during my years that the Scott Tissue family owned it, and that the family of Randolph Scott owned it, but never heard of the Scott & Stringfellow story. Some years later I was into customizing trucks, and had a very beautiful truck. I wanted to take pictures of it with the castle as a backdrop. A friend and I drove up the lane, and parked in front of the castle. Not wanting to intrude, (any more than I already had) I waited a bit. Coming up the land about 5 minutes behind me was a man and woman in a car. At the time I felt like he may be the care taker. I explained what I wanted and told him that I hadn't taken any pictures yet. He replied that they didn't allow pictures to be taken, and thanked me for not doing so. We shook hands and I left with a generally good feeling, although sometimes I wish that I had taken some photos. I found this website which connects the castle with the Scott family that donated money to the University of Virginia for the football stadium which is named Scott Stadium. http://www.dhr.virginia.gov/registers/Cities/Richmond/127-0228-0001_ScottHouse_2005_NRdraft.pdf Section 8, page 4 is where you will find the reference. I have looked on the internet for years, before I found your site. I guess that I just didn't use the correct words for my inquiry. I will continue to check your site, and my intrigue with the castle is even more than before.
On 4-14-07, I received E-Mail that said:
I don't know if you have this link on your site already for the Scott's Castle in Virginia, but I came across it while surfing the internet. I also tried to find it on Google Earth but was unable to even by longitude and latitude. http://www.nps.gov/shen/historyculture/road_to_nowhere.htm
On 5-14-07, I received E-Mail that said:
A family friend is an at home nurse, who was taking care of the daughter of the current residents of the property, they live in a house on the property, the castle is owned by the entire family and is only used for family events, though there are a few houses on the property that decendants of the builder own and live in. this family being one of them.
The Orchard got its name when at some point in time who knows how long ago apples from the property were sent to the queen of England, and she thought they were the best apples she had ever had and that she deemed the orchard the "Royal Orchard" and that was where all her apples would come from.
The castle was built from local stone, from somewhere in the surrounding area, a friend had a lot of rock on his land and wanted it gone so the original builder (don't remember the name) so he told him he would clear his land for him. When the owner of the cleared land saw what had become of his stone he sent him a very impressive bill for all the stone, the builder in turn sent him and even more impressive bill for clearing his land.
On 6-3-08, I received E-Mail that said:
Found 2 recent pics here:
http://www.flickr.com/photos/angeloftheodd/32299159/
http://www.flickr.com/photos/angeloftheodd/32299158/in/photostream/
On 7-23-08, I received e-mail that said:
Found your site after a co-worker told me a story about Royal Orchard outside Charlottesville. I've lived here a year and I keep hearing new things about Charlottesville--it's great! I love stuff like this. So I did some digging and found some additional pictures. Check these out:
http://www.stoneandlime.com/RO.htm
Apparently photos taken after/during a recent restoration. Still can't find pictures of the inside though.
On 1-31-09, I received e-mail that said:
Somehow I stumbled onto this page and I just wanted to say that if you go up the driveway that leads to the castle the gate, it will not be guarded by people in black suits. My husband was born and raised in Staunton va and I rented a house last summer from the family that own the castle. It was just before you reached the pool the one guy mentioned...the gate is coded. I only saw the castle twice cause I'm pretty sure people live up there so I respected their privacy and it would be nice if others would do the same. I can also tell you from personal experience the land is filled with wildlife I'd leave for work in the mornings and there would be a momma bear with 2 cubs in my driveway and tons of deer everywhere...I've attached some pictures of the driveway, after the gate it is like 2 miles long all uphill as you can see, a house and the castle view from the halfway up the driveway. I hope this helps.I'd definately hop for a tour if they came available.
This Website explains the History of the castle.
http://www.newsvirginian.com/wnv/lifestyles/local/article/a_castle_and_a_mystery_cottage_on_afton_11_07_07_wnv/14030/
On 4-15-09, I received e-mail that said:
I periodically check this site for the accuracy of the information regarding Royal Orchard. I am a direct family descendant and the latest information here is pretty much spot on.
It is a summer retreat that was built very early in the 20th century. The main house very closely resembles a castle, and up until recently there were parapets on the roof. Two of the outlying cottages and the barn are built very similarly to the "Big House" as we call it, with rough stone and mortar construction. There is a more modern wooden cottage on the main grounds, and about 3 other cottages/chalets on the property that are situated in the forest up the mountain. There are various rough trails through the woods that can be driven on by SUVs. At the top of the mountain there is a clearing where we have picnics during the warmer months.
There is a spring-fed pool, which is very refreshing at about 65-70 degrees in the summer, and 3 tennis courts. There are rolling pastures and vegetable/flower gardens downhill from the Big House, and directly in front of the Big House is a 'bear pit'.
We used to offer tours of the Big House but stopped after a robbery. Tours will not be offered again. The Big House is two stories with approximately 15 bedrooms, a kitchen, dining room, living room, and main foyer. It is not air conditioned and offers little heating capability.
Again, this is a private grounds and any trespassing is prohibited. There are caretakers who live on the grounds permanently and will turn you away unless you are accompanied by a family member, particularly during the summer when hikers venture off local public trails and onto the property. Please respect our privacy, I hope my information and descriptions have quenched all curiosity about our beloved home.
On 6-30-09, I received e-mail that said:
I found a link that has a picture of the rear of the castle and thought I would pass it along.
http://www.johnmilnerarchitects.com/gallery/project.cfm?ProjectID=83
On 9-28-09, I received e-mail that said:
Happened on your site while looking info up on an employee of years past. I worked for Ms. Bocock a daughter of the owner. I was her "Mule & Horse Expert" on the Smith Farm(?) just a hill over. Her place that she was building was called the Early Va. Vehicluar Museum." I heard from another person from the area that it burned to the ground after a lightening strike.
We worked and visited the castle on numerous ocassions. It was a beautiful place in the late 70's. Fond memories.
Back to "Castles of the United States"