GAYTONIA CASTLE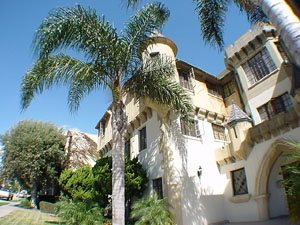 One of the castles that was built in Long Beach during the late 1920s and early '30s is Gaytonia, located at 212 Quincy Ave., designated a Long Beach Cultural Heritage Landmark. The Normandy Revival-style castle is now a 27-unit apartment building. It cost $100,000 to build in 1930, a nearly unheard of expense.
On 7-16-11, I received e-mail with this link:
http://www.beachcalifornia.com/beach/gaytonia-belmont-shore-photos.html
Back to "Castles of the United States"