UNKNOWN CASTLE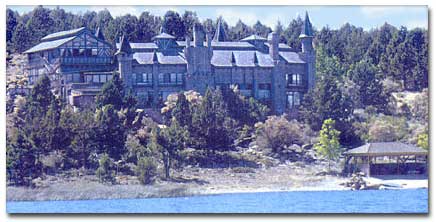 I received E-Mail that said:
Eagle Lake Castle Northern California:
One for sale that I don't think you have in your California listings. http://www.castles-for-sale.com/sale/Northern_California/
Eagle Lake is just north of Susanville, CA. Location description on sale page of between Lake Tahoe and Kalamath Falls is a bit broad. Lake Tahoe, CA/NV to Kalamath Falls, OR is over 300 miles.
3-15-04, I received E-Mail that said:
That castle is on Boat Club Road and was built in 1996-97 as I recall. I had a friend that lived right by it and we watched them building it. I still live near there and this coming weekend I will go out there and get the info for you.
On 7-19-10, I received e-mail that said:
Here's some information for you with regard to this castle.
http://www.eaglelakecastle.com/mainpage.htm
Back to "Castles of the United States"