MARYVALE CASTLE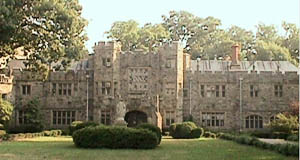 Maryvale Castle was built in 1913 for Dr. Walter F. Wickes. Modeled after Warwick Castle, in Warwickshire, England, the castle stands today on 115 acres of Baltimore County's Greenspring Valley, at 11300 Falls Road, Brooklandville, Md. The estate was purchased in 1945 by the Sisters of Notre Dame de Namur, it currently houses the Maryvale Trinity College Preparatory School.
Click here for more information about Maryvale Castle
To return to this page, click on the BACK button.
Back to "Castles of the United States"

Information courtesy of Phil Bilzor.
Photo by Jennifer Bartal.