CHARBONNEAU CASTLE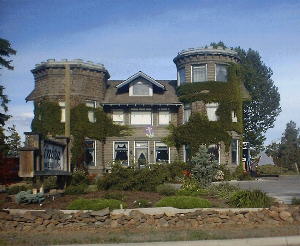 I received E-Mail that said:
This one is a florist shop now but it used to be a private residence, its also located in Yakima, WA. between Nob Hill Blvd. and Tieton Dr. on 48th Ave. Unfortunately I know nothing of its history yet...I've just always loved the house.
Later, I received E-Mail that said:
The "castle" you refer to is Charbonneau (spelling?} Castle. It is now Findery Floral and Gifts. For more information on this castle contact: Yakima Valley Museum and Historical Association (they do have a website too) 2105 Tieton Drive, Yakima WA 98902. Phone number is 509-248-0747.
Later, I received E-Mail that said:
I have heard stories that my dad used to tell me when I was little about the lady who had that house. She was very rich and moved here from Alaska. She would come down here in the summer and use it as a guest house as well. She only used it a couple of times and then she died. My source may be a little off but on the most part that's about as much as I know.
Later, I received E-Mail that said:
I live in Yakima, WA and I have the answer to your Charbonneau questions.
The old owner of the Castle, was Belinda Mulrooney, a famous Klondike women and might I say she was quite the entrepreneur. Belinda Agnes Mulrooney, was born in Ireland, she left Ireland to live with her parents in Pennsylvania. Then at 17, she moved to Philadelphia. She owned taverns and hotels in grabd forks and in Juneau during the gold rush. She met her beau Charles Charbonneau who is French Canadian but claimed to be a French count. He scammed her and spent her money faster then bees to honey. They were married on October 1st, 1900 and she divorced him 4 years later. She finally moved to Yakima, WA and built that castle with the last of her money, she got so poor, she was forced to rent it out and spend the last of her days in Seattle, WA. She died at age 95 all alone in Seattle.
So that's the story of the castle, I just turned 14 today and I am very smart and love Congdons Castle and Charbonneau in Yakima!
Back to Home Page

Photo courtesy of John Sleeth, info courtesy of Danika F.