BANCROFT TOWER CASTLE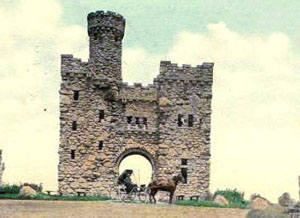 I received E-Mail that said:
I was wondering whether you included "castle-like" structures that aren't full fledged castles. One such structure is "Bancroft Tower" in Worcester, Mass., which is sometimes called "Bancroft's Folly" and is located near the Worcester Polytechnic Institute campus. When I attended school there, Bancroft was a popular place to visit in the middle of the night, though it is located in the middle of a park that is closed after dark. Shakespearean performances are held there during the summer, and it has been open to the public only sporadically. I always thought it looked like someone built the castle gate and forgot to coninue with the rest of the castle. Anyway, I'd love to know more about it.
Go here to visit an another site with more information: Bancroft Tower
To return to this page, click on the BACK button.
Later, I received E-Mail that said:
I was checking out your website and I want to report a castle to you which I have found. It's called bancroft tower and its located in Worcester, Massachusetts. Here's a link to the picture of it. http://img.groundspeak.com/cache/77334_200.jpg
Later, I received E-Mail that said:
I remember first visiting Bancroft Tower with my parents in the late 1940's and early 1950's. We lived a 15 minute walk from the tower. There were several fireplaces within the tower where we would cook hot-dogs, bringing firewood found along the then dirt road-trail leading up to the tower from the east side. There was a public two hole outhouse on the property until circa 1955, now gone. Iron gates within the two halves of the tower were at times locked shut preventing our cookouts, as collage kids from Worcester Poly Tech a 10 minute walk, had a habit of littering after a beer parties. Now living In North Carolina with my last visit to the tower in the 1960's I wonder what else has changed.
A City of Worcester web site with information on Bancroft Tower's construction $15,000 http://www.ci.worcester.ma.us/wpr/parks/profiles/salisbury.htm
Another City of Worcester web site with viewer comments about Bancroft Tower http://www.worcestermass.com/places/bancroft_tower.shtml
Acme.com web site, aerial photo of Bancroft Tower at N 42.2764 W 71.8158 http://mapper.acme.com/?lat=42.276441&long=-71.815887&scale=11&theme=Image&width=3&height=2&dot=Yes
National Register of Historical Places, Bancroft Tower added 1980, Romanesque architecture http://www.nationalregisterofhistoricplaces.com/MA/Worcester/state.html
Three nice pictures JPG showing the stonework of Bancroft Tower http://www.preservationworcester.org/pages/pagessalis/s15bt.html
Black and white photo of stonework http://www.robsphoto.com/photo/Gallerie/photo6w/PB040860sepia1per.jpg
A rock climbing hanging from Bancroft Tower practice bouldering-climbing (JPG picture) http://www.rockclimbing.com/routes/listArea.php?AreaID=6149
---
Building a castle is not an easy undertaking. It's not like building a house or a deck, since it takes years of planning, expensive materials and an army of workers. If you don't have the resources, you may want to start by building a treehouse.
---
Back to "Castles of the United States"

First photo sent in by Phil Bilzor.
Second link by Cary Stebbins.
Second photo courtesy of groundspeak.com
Links courtesy of Jim Sadowski.