CASTLE AVALON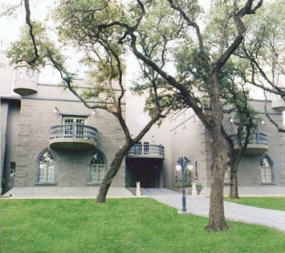 Castle Avalon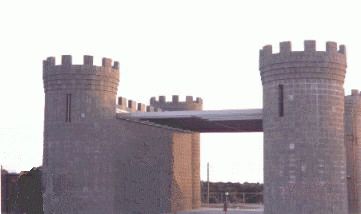 Castle Avalon Gatehouse
CASTLE AVALON IS FOR SALE
For more information about the sale of Castle Avalon, contact:
Ron Bigbee
Phone 830-708-3156
Or e-mail at: rbigbee@gvtc.com

Castle Avalon...the last haven of magic.
Lost in the mists of time is the name Avalon. Created in legend as the resting place of King Arthur and rumored to be the last place of magic before the world of man. The era of transition between mankind and magic is richly remembered in literature, song and dance and has been recreated and the name "Avalon" reawakened.
Every year most husbands and boyfriends ask themselves the same thing, "What am I going to do for our anniversary?" Avalon has answered their question. Seclusion, intimacy, and fine dining wrapped in the unique atmosphere of an "old world" castle will give our patrons an experience unlike any other. The Castle was created, designed and built to help rediscover the lost art of romance. Although we offer all the modern conveniences and comforts, our guest rooms lack the intrusion of television and phones. We encourage our guests to take advantage of our fine dining, an evening stroll or our library. The idea for Castle Avalon owes its birth to the fertile imaginations of our family. Each member has contributed unique and varied ideas and thoughts as to what was important to each of them. Therefore the arrangements of round towers, quiet sitting areas and hidden passages were the offspring of those imaginations. Our knowledge of castles came about from historical documents, visits to other castles, interviewing artisans and craftsmen, and research in university libraries. Castle Avalon is an originally designed structure that was created to capture a time period rather than a place. A period when chilvalry, honor, loyalty and romance were blended with the native beauty of the surrounding country.
The difficuly in today's world is finding artisans and craftsmen who can create reality from imagination. The task of locating and hiring these artisans and craftsmen consumed many long hours, but the end result speaks for itself. Everything from the choice of color and decor to the seclusion of the structure itself was meant as an enhancement of each romantic moment. In a world of high tech and high stress we offer an island of seclusion known as "Avalon." Hidden among the oaks of the Texas hill country, it truly is a place of magic. We have created an atmosphere in which couples can share the most precious of gifts...time. Time to talk, walk to hold hands and watch the sunset undisturbed. Time together is the most highly sought after, but rarely found commodity of modern times. Your time together at Avalon is limited only by your imagination and love for one another. Whether your time spent with us is dinner for two, an engagement, a wedding, an anniversary or an overnight stay we feel that your time spent here cannot be duplicated at any other location for any price.
Our choice of building sites spanned a period of two years, locations throughout the hill country, from Kerrville to Fredricksburg to Austin and all points in between, were explored as possible building sites. New Braunfels was chosen because it offers small town charm and big city convenience. Many of our neighbors are quite familiar with the castles of Europe, therefore a castle in their midst was not totally out of place.
To visit the Castle Avalon web site, click here. Castle Avalon Home Page.
To return to this page, click on the BACK button.
Later, I received E-Mail that said:
I moved from Texas to NY about 3 years ago and remember my stay at Castle Avalon in New Braunfels. It was an incredible experience! Each room was decorated quite uniquely and in the tradition of King Arthur. The food was excellent....those who ran it were wonderful as well.
Back to "Castles of the United States"

A special thanks to Ron Bigbee for the pictures and information on this page.