CANTERBURY CASTLE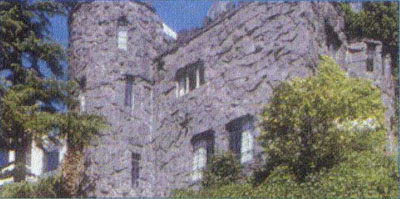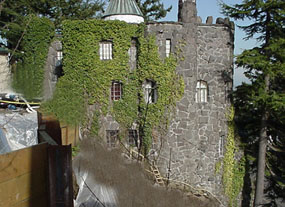 I received E-Mail that said:
I found this ad for a castle for sale, but I can't find any information about it. I know it is in Oregon, near the city of Portland, and was recently for sale. The asking price was $848,000. The ad calls it Canterbury Castle." I don't know if this is the name of the castle or if they think it resembles the actual Canterbury Castle. It is made of stone. I am sending you a picture I scanned from a real estate magazine.
Later, I received E-Mail that said:
We pass by this castle every week,on the way home from the children's museum in portland, by the zoo. I believe the castle is on Fair view street, past the round house with the spider-web windows. Fairview is an extremely interesting street, architecturally speaking. Its definitely worth a look, also for the beautiful views of the mountains and downtown.
Later, I received E-Mail that said:
Canterbury Castle has a non-working drawbridge, and I believe an old dried up moat. I have some very interesting pictures from different (outside) angles, and will get them out of storage for you. I read the plaque on it this morning, and it stated that it was placed on the National Registry of Historic Places in 1930. Build in (??) 1919 (??).
Later, I received E-Mail that said:
My father used to go to this castle often as the owners were friends of our family at the time. He has told me that they have an indoor pool in the basement and that the house itself is quite beautiful inside. It is located in the North West hills and a year or two back was in danger of sliding down the hillside (as many houses there often are). You can see the slide-out next to the house in the picture on your page.
Later, I received E-Mail that said:
I live in Oregon and about the Canterbury Castle in Portland, if you contact the news stations here,," Katu, KGW or Koin " here in Portland. They did a new story about the castle. They even have video footage of it if you decide to maybe get it and add it to your site. But the new owners have re-done it and did much restore. The draw back is working and the mote is full again. Also there are several rooms that have been redone in some fashion to a movie stars bedroom and bathroom setups.
Also the current owners are very very nice and would also give a tour every now and then. Just make an appointment for a tour. It's a big big place and very very cool... The one thing that I do remember is that one of the bathrooms are done up like the bathroom of Charlie Chaplan's bathroom.
Later, I received E-Mail that said:
The Canterbury Castle is located on Canterbury Lane above Fairview Blvd. I believe the castle was the only building on the bluff originally so I am not sure if the street was named after the castle or the castle was named after the street.
Later, I received E-Mail that said:
Hi, there! Found your site as a result of a Google search after reading a column in the Oregonian newspaper about Canterbury Castle. Thought you'd be interested in this. :-)
http://www.oregonlive.com/news/oregonian/margie_boule/index.ssf?/base/living/10976691798100.xml Love for castle in the West Hills brings Portland couple full circle Thursday, October 14, 2004 - The Oregonian Newspaper
J ohn Hefferin remembers the first time he laid eyes on the Canterbury Castle in the West Hills. "I was in high school, driving around with friends." He admired the old houses on Southwest Fairview Boulevard, "But the castle was definitely the neatest."
John had to get a closer look at the castle. He sneaked up the stone stairs that led to a quaint wooden door with iron fixtures. "I figured, if they catch me and throw me out, it's worth it. I've got to take a look. It's just fantastic." John admired the crenellations along the tops of the stone walls, the multiple turrets, the incredible brass roof on the high tower.
Some teenage boys have a thing about rock stars or athletes. John had a thing about that castle.
A few years later John was studying at Portland State University and met Sidney Lynne in a class. John took Sidney on a picnic in Washington Park, then told her he was taking her to one of his favorite spots: the Canterbury Castle.
Sidney was enchanted with the house. "We snuck up the stairs again," John says, and he took her picture in front of the wooden door. John blew up the photo and had it mounted.
And for the past 18 years no matter where they lived, that photo sat on their mantel. "It's not like we planned to come back someday to the castle," Sidney says. It was just a photo of a magical day, in a magical place.
The photo and the couple made a lot of moves. They traveled to Asia and Europe. They lived in other states, most recently Colorado. Along the way they got married and had three daughters, established careers in real estate, and fixed up a lot of old homes.
In 2002 they came to Portland on vacation and realized it was time to move home. In the historic Hollywood Theatre building they opened a realty company and called it Nostalgic Home (www.nostalgichome.com).
They had no idea how appropriate that name would be.
This spring Sidney was driving near Washington Park and spotted a "For Sale" sign in front of Canterbury Castle.
That's not all she saw. She saw ivy everywhere. She saw stones on the ground where they'd fallen from exterior walls. She saw signs of the landslide that covered Fairview Boulevard with mud and rock a few years ago, threatening the stability of the castle. And she saw signs of past, uncompleted attempts to keep it standing.
The castle had been empty for more than a year. Sidney was determined to buy it, but she knew no bank would finance a loan.
Still, she and John always had loved castles. "When the tour guide at Hearst Castle said, 'Most people think this style is too gaudy,' I'm in the back saying, 'This is exactly the style we like,' " she says.
And this was their own special castle, the one where John had once snapped Sidney's picture.
When she brought John to see it, he saw huge cracks in the walls, foundation, ceilings. Most buyers would have turned and run. Not John and Sidney.
"We lived in Denver six years," John explains, "and a lot of homes there have structural problems. I knew it was fixable." In Denver, John says, they dug deep holes and anchored houses to bedrock. He figured they could do the same with the Canterbury Castle.
But the first few experts they consulted disagreed. "A couple geologists and structural engineers thought it might not be worth saving the castle," Sidney says. "We decided it was worth the risk."
They aren't wealthy people, and they needed cash. Sidney scrambled and found investors. On May 1, the castle was theirs.
It's been the scene of construction and reparation ever since. "We're building an underground retaining wall anchored to bedrock," John explains, "to stop the whole hill from slipping."
They feel like they're saving the castle for themselves and for the city of Portland. "It's a landmark," Sidney says.
They've removed the ivy. Concerned about the safety of their daughters, John put several inches of sand in the moat (yes, there's a moat beneath the drawbridge.) Later, they'll make it a water feature.
They also hope to repair the indoor water feature: a fountain that once spilled water from an indoor bathing pool, out a gargoyle's mouth, down a story into a drain, which then spit the water out another gargoyle's mouth, down another story to a drain just inside the front door . . . the very door Sidney once stood before as John snapped her picture so many years ago.
Behind that door today their daughters prance on the stage in the living room and give puppet shows through the many arched interior windows. They scramble up the staircases with the handmade tiles, gaze out the leaded-glass spider-web window, warm themselves before the enormous slab-stone fireplace.
And sometimes they bathe in the original cranberry bathtub in the master bath, which Sidney was told was a copy of Charlie Chaplin's bathroom in Beverly Hills. It sports a tile-lined alcove that must be the most majestic throne room in the city of Portland.
"I feel sort of like we're in 'The Wizard of Oz,' and this is where we're supposed to be," Sidney says. The castle may look more like the Emerald City than Kansas, but "after all our searching, and all our adventures, we ended up right where we started."
Later, I received E-Mail that said:
I have been living in the Canterbury Castle for about 8 months. Its wonderful! I has a moat, a drawbridge, and a fire breathing dragon! Really the dragon is are huge furnace. It has 2 spiral staircases and was built by Jo Fry around 1930 It is 5000 sq ft. If you would like to find more info go to www.nostalgicHome.com
On 3-14-09, I received e-mail that said:
Canterbury Castle of Portland, Oregon, is in forclosure, and the bank is considering tearing it down. http://www.kgw.com/news-local/stories/kgw_031309_news_canturbury_castle.3177f01f.html
On 5-31-09, I received e-mail that said:
I found your site while searching for images of Canterbury Castle in Portland, Oregon a few months ago. This was when The Oregonian (the local newspaper) ran a story on the castle, and the possibility of it being torn down.
It's official, it's being torn down. See attached link for info on this.
http://www.oregonlive.com/news/index.ssf/2009/05/portlands_canterbury_lane_cast.html
It's sad - I've lived in portland for years, and went to grade-school with the child of one of the previous owners, the house if falling down the hill.
Also, on 5-31-09, I received e-mail that said:
I grew up right up Fairview Blvd. from Canterbury Castle, and saw it's current state on the way home tonight. It is indeed being dismantled, stone by stone--a very sad sight.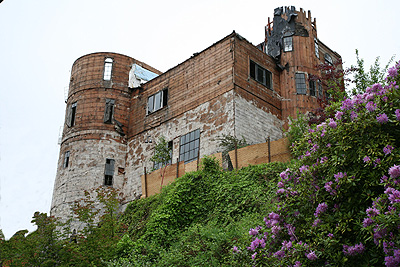 On 1-28-12, I received a photo of the castle as it was being torn down. Very sad.
Back to "Castles of the United States"

Thanks to Tammy and Desiree and Matt Schneider for sending in the photos.