PINK CASTLE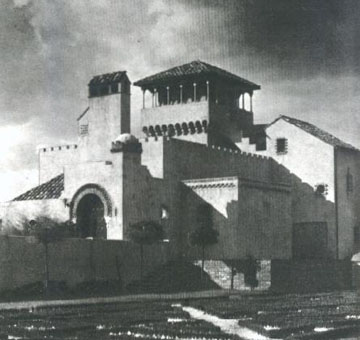 I received E-Mail that said:
There is another castle I know of on Maryland's eastern shore. It is know by the locals as The Pink Castle due to its color. It is located in the small village of Tunis Mills, across the river from St. Michaels. It was built by a german immigrant and is reported to have many secret passage ways. I don't have a picture since it is only visible from the river.
Later, I received E-Mail that said:
Some information about the "Pink Castle" on Leeds Creek opposite St. Michaels in Talbot County Maryland:
The Pink Castle is some distance from the village of Tunis Mills (where I live) and is not considered part of the village, although we treasure its history and the stories surrounding it. A magnificent picture of it appeared in the Baltimore Sun newspaper on Sunday, November 8, 1998. Much of its history also appears in the accompanying article.
Later, I received E-Mail that said:
Below please find an excerpt from the Baltimore Sun Article published 11/8/98. Perhaps you would like to use it on your page about this castle.
By: Jacques Kelly
Section: Art
Page 10F

. . .Cape Centaur
Perhaps none of Talbot County's baronial residences has provoked more speculation than Cape Centaur, a tile-roofed, Spanish-style villa whose 275-acre grounds wrap around 5 miles of Leeds Creek and the Miles River. The so-called "Pink Castle" has been the subject of endless gossip - oft-told tales of German submarine sightings at its shore, of gold and silver coins stored in secret chambers, of huge medieval-like moats, impregnable doors, steel shutters and air-raid sirens.
According to the 1977 book "Wye Island" by Boyd Gibbons, Centaur was built in 1922 by a U.S. diplomat named Glenn Stewart, who was convinced someone was trying to kill him. He was so fearful that he and his bodyguard and estate manager, Adolph Pretzler, slept with Colt .45s under their pillows, the book says. "I met Glenn Stewart several times, and he was what you'd call paranoid... weird," says Mary Donnell Singer Tilghman, who grew up not far from Centaur. "The place was surrounded by a security fence, and there were dogs inside. The place had a guarded entry house."
Buster Miller, an Easton cab driver who worked Centaur's huge entrance gates in the '50s, will say only that "Mr. Stewart always treated me very well." His wife, Jacqueline Archer Stewart, was a wealthy dog lover from Ireland and the godmother to Gloria Vanderbilt. Legend has it that she dyed her French poodles to match the interior of her latest Cadillac.
Are all the rumors true? the Pink Castle's current owner is asked.
Ello Pretzler simply smiles and says:
"Totally untrue. It just makes a good story."
Stewart may have been eccentric, Pretzler says, but "Mrs. Stewart was kindly and a devout Christian person. I still have her Bible." She was the type who would have her chauffeur stop to rescue strays, not dye dogs. Pretzler, 58, has her own story. Once a secretary, she came to Centaur 35 years ago as the young bride of Adolph, the estate manager. When Stewart's widow died in 1964, Adolph inherited the property. "My husband was like an adopted son to the Stewarts," Pretzler says. Adolph - "he was one fine, honest gentleman" - died in 1992, and his widow inherited the estate, assessed today for tax purposes at $2 million. She also has other real estate investments. She lives in the main house. Not far away, in a cottage, is her daughter's family.
The Pink Castle's red-clay tiles project above the tree line, creating the impression of a Castilian palace that improbably turned up amid the loblolly pines. Its squarish tower could pose for the cover of a Gothic novel. There's a Latin inscription on the entry pillar by the gatehouse. Loosely translated, it says: "Honesty is the best policy."
Pretzler shows visitors the azure blue and yellow tiles from Tunis inset in the stucco walls, its fountains and boxwood gardens. She says the roof tiles came from Cuba. "This is a warm and sunny Mediterranean house - there is nothing dark about it," she insists, and adds: "The house really isn't pink. The color is 'desert dawn.'"
Inside, the house shares a passing resemblance to the set of "Sunset Boulevard," with a massive painting of a Spanish senorita, large antique upholstered furniture and lamps dressed in heavy shades. The floors are tiled, and the heavy doors are latticed with inset panels.
From secretary to estate owner. "God brought me here," Pretzler says. She is now a grandmother whose joys are simple, like strolling the estate with her granddaughter. She takes a seat on the sunny terrace and becomes philosophical: "A gorgeous mansion is no good unless you possess inner contentment and happiness." .
Later, I received E-Mail that said:
An interior photograph of the castle's living room appears opposite page 57 of Nancy McClelland's 1926 book "The Practical Book of Decorative Wall-Treatments" (Lippincott).
Caption as follows:
"Deep ivory walls of antique smooth plaster with dado, alcove, and fireplace covered with Tunisian tiles in green, yellow, blue, and chocolate. Into the walls of the alcove are set tile pictures with Persian flowers. Bradley Delehanty, architect."
Later, I received E-Mail that said:
Attached is a scanned photo of Cape Centaur/Pink Castle from the architects portfolio date 1934. I would say this is a castle. It is not built however along the same traditions as the Western Perpendicular Gothic Revival style used at Lyndhurst in Tarrytown in New York State but rather in the Moorish-Islamic Gothic tradition of the 12th and 13th Century as in the Alhambra or Alcazar in Spain. It does have crenelations and a tower with some exposed brick, iron work, and stone detail. The front massive wooden door seems to open into a smaller entrance court. It is constructed most likely of terra cotta hollow tile with a stucco exterior finish as in the case of El Castillo in Palm Beach.
Back to Home Page

Thanks to Daniel V. Hogan for sending in the photo.