UNKNOWN CASTLE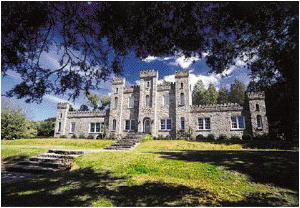 I received E-Mail that said:

There is a private home in Nashville, TN located on Hillsboro Road that is nestled on a hill covered by trees that definitely looks like a castle. Because it is a private home I don't have any more information than that. I do know of people who have been in the home and say that it looks like a castle both inside and out.
Later, I received E-Mail that said:
I just recently moved to Alabama from Nashville, and I remember the work being done on this structure. I have been told that the castle was purchased from a location in England, dismantled and shipped Nashville where it was reas-sembled. It's setting is very fitting - on a hilltop with a great view of Nashville. It is about a mile south of the intersection of Hillsboro Rd. and Battery Lane, on the right going away from downtown. Ironically, it is just past the house that is said to be the largest residence in the state of Tennessee. Although the house is visible from the road, I do not know any way other than contacting the owners to get a picture. The drive has been closed off with a chain to keep unwanted visitors out - it attracted a lot of attention when it was first being contructed. I cannot imagine being a very private person and living in a house like that one. I wish you lots of luck locating a picture of the structure.
I received E-Mail that said:

The Castle in Franklin is actually a Recording Studio owned by Jozef Nuyens Jr. It's located on hillsborough road in Franklin tennessee, just outside of Nashville. In the early 90's, I did some recording there with a band and it's beautiful. I don't know a lot of history behind it but I do know it appears authentic, and unbelieveable!
Later, I received E-Mail that said:
The castle you have pictured under "unknown castle" in Franklin Tennessee is currently operated as a recording studio (owned by nuyens family). The structure was supposedly constructed under the direction of Al Capone, and was used as a "half-way" point between the chicago and florida "headquarters". There seems to be some validity to this claim as I have seen a photograph of old scarface himself playing cards (?) on the back porch (which is now enclosed and used as a recording booth) of the castle. The building has served many different owners/uses over the years: private residence (for sure), some sort of restaurant (quite likely), a casino (possibly), among others.
Later, I received E-Mail that said:
As a few people have indicated, this castle is a recording studio. The name of the company is "The Castle Recording Studio". (Not the same as Castle Records)
Later, I received E-Mail that said:
The unknown Castle in Franklin TN is referred to as The Castle and is a recording studio. There is some information on the internet with pictures of The Castle. It is on a aol site, the address is http://members.aol.com/castlerec/studios.html
It seems that this should have a name other than just "The Castle". Does anyone know more. It would be interesting to know for sure who had it built.
Later, I received E-Mail that said:
I can confirm what many people have said about this "Unkown Castle" because I was an intern for the studio from January 2004 to the end of August '04 and have been in the depths of The Castle basement many times to run cable and help wire the house for broadband internet access.
The company name is The Castle Recording Studios, Inc. and is owned by Jozef Nuyens, Jr. whose father and mother bought it in 1978 and turned it into a studio.
Although some believe that Al Capone once owned it, Capone's bookmaker, John P. Welch actually had it built (between 1930-1932 by, master stonemason, Charles Sutton) and lived there. "Welch hired anyone who would work and construction on his rock castle took about two years to complete. The rock was quarried on the property. The house, patterned after a medieval castle was designed by a Welsh architect." " 'People were glad Welch was here, because he gave so many jobs,' [Robert] Moran said. 'He would pay workmen $2 a day when everybody else was paying $1, and it was hard to get a job at any pay [during the Great Depression].' "
Even though it's name use to be "Windyham Farm castle," if you were to call it anything, call it, "The Castle," because that is what the the company owners, employees and everyone who knows of it calls it today. "But for a while The Castle (it was never called anything else) was operated as a sedate dining place where civic clubs and school fraternities held dinner parties."
Here is the history part of the Castle's site which should prove helpful. http://members.aol.com/castlerec/history.html
History:
Property it sits on owned by Jeff Moran or Fountain Pittshulme (news articles conflict)
1930: Sold to John P. Welch for $60 an acre (200 acres =$12,000)
1930-32: Built for Welch by Charlie Sutton
Welch operated a dinning club and horse riding academy for a short while
1945: Welch dies of an asthma attack
Became known as the Rock Castle Dinner Club and was used for dining for civic clubs and school fraternities
1948: A traveling casino then used it for one night; afterwords, The Castle was closed to all commercial use and over 100 acres were sold
1951: Mr. and Mrs. Gale DePierri bought it
1973: Mr. DePierri dies and The Castle is sold to Genie Colmore
Unkown: Tom Moon buys house
1978: House is sold to the Jozef Nuyens and family who convert it into a small recording studio for the Belgium familys bluegrass group.
Unknown: small studio converted into a commercial studio by the Nuyens'

Later, I received E-Mail that said:
I found your website about castles doing a search on the castle in nashville/franklin area on hillsboro road. I am 32 years old and when I was in kindergarten my teacher(ms.moon) owned the castle. She took us on a field trip to her home/castle. My mom was recently cleaning out closets and ran across a newspaper article (where the castle was up for sale) and pictures of me and friend there. The newspaper article came from the Tennessean. I would be glad to mail you a copy. The moon family sold the castle in 1978 to move to another country to become missionaries.
On 11-24-08, Ireceived e-mail that said:
I wanted to update you on "The Castle" in Franklin, TN. There was a new website launched (http://www.castlerecordingstudios.com/) this month that has a few more pictures and info.
Back to "Castles of the United States"