NEMACOLIN CASTLE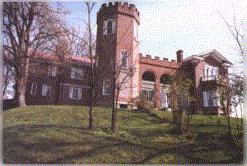 Nemacolin Castle is located Brownsville, Pennsylvania. It's location overlooking the Monongahela River was once the site of Old Fort Burd. Previously known as Nemacolin Towers, the tudor style building dates back to the 1790's. The castle was built by Jacob Bowman who was appointed by George Washington as Brownsville's first postmaster. The castle was home to the Bowman family for many years. Today, it is operated by the Brownsville Historical Society and is open to the public.
For more information, contact;
The Brownsville Historical Society
P.O. Box 24
Brownsville, Pennsylvania, 15417
Phone 724-785-6882


Visit the www.nemacolincastle.org web page with more information by clicking here.
To return to this page, click on the BACK button.
Back to "Castles of the United States"