BELCOURT CASTLE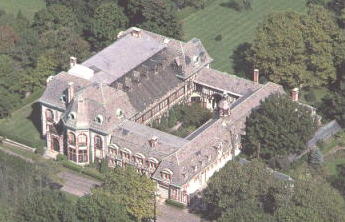 Belcourt Castle was designed for Oliver H. P. Belmont by Richard Morris Hunt. The 52 room house was based on Louis XIII's hunting lodge at Versailles, and was constructed, at the owner's request, to house his horses in the same opulence that he himself enjoyed.He also insisted that the layout of the castle should permit him to ride his horses or his carriage right into the house! one visitor remarked that it was "a palatial stable with an incidental apartment and an incidental ballroom". The ground floor was in fact one large stable. The horses in each stall were bedded down in fine Irish linen, with a gold nameplate on every stall's door. Upstairs, Mr. Belmont even had two of his favorite horses stuffed and mounted by mannequins wearing full suits of ancient armor.
The castle rests on a four foot thick slab of concrete, and the exterior walls of brick and granite are 42" thick. The castle also boasts indirect lighting designed by Thomas Edison himself ! There is an extensive collection of stained glass windows dating from the 13th century in the house that is the largest of its type in America. Over 3 million dollars were expended upon this summer house that was completed in 1894. The guests included such notables as the Duke of Windsor and Kaiser Wilhelm. Belcourt Castle is currently owned by the Tinney family of New York City.
Later, I received E-Mail that said in part:
Among the Newport showplaces, Belcourt is distinctive because its owners are still in residence. Belcourt was designed by Richard Morris Hunt, who studied at the Ecole des Beaux Arts in Paris and lists the base of the Statue of Liberty, several Newport Vanderbilt houses, and an addition to the US Capitol among his creations. Oliver H.P. Belmont paid three million dollars in 1892 to build this sixty-room cottage, where he lived as a bachelor until he married Alva Vanderbilt. Divorced from W.K. Vanderbilt, "The Indomitable Alva" was a keen supporter of women's rights. She was also president of the National Women's Party, which advanced the cause of women's suffrage.
The Louis XIII-style of Belcourt invokes both a hunting lodge as well as a castle. Several rooms were patterned after rooms in French chateaux, but the mansion also includes an Italian banquet hall and an English library. If you have time to visit the carriage house after the tour of the castle, the gold Coronation Coach is an ornate sight.
Admission: The entrance fee is $6.00 for adults, $5.00 for seniors and college students, $4.00 for students 13-18 and $2.00 for children six to twelve. It's open: from February to March and November to December it is open daily 10 AM to 4 PM, from April to Memorial Day 10 AM to 5 PM. from Memorial Day to Mid October 9 AM to 5 PM and from Mid October to November 10 AM to 4 PM. The castle is closed in January.
Location: The castle is at 657 Bellevue Avenue in Newport, Rhode Island.
Shops: There is a gift shop on the premises
Phone: (401) 846-0669
Later, I received E-Mail that said in part:
The admission information is really old. You might like to check out our updated web site at
http://www.belcourtcastle.com for some recent information.
Our 2001 admissions are: Adult $10.00; Senior $8.50; Student $7.50;Child $5.00; Ghost tours and Candlelight Tours by reservation $15.00.
Later, I received E-Mail that said:
The Tinneys, of Cumberland, Rhode Island, bought Belcourt in 1956. They changed the name from Belcourt to Belcourt Castle.
Later, I received E-Mail that said:
Oliver Belmont died in 1908, and surviving Belmonts sold their interest in Belcourt in 1940. Belcourt deteriorated, largely uninhabited under several owners, until the Tinneys bought it in 1956 for $25,000. In addition to changing the name from Belcourt to Belcourt Castle, the Tinneys filled the house with their own collection of antiques and reproductions.
On 5-17-05, I received E-Mail that said:
It should be noted that the famous Gold State Coach mentioned as a must-see artifact within Belcourt Castle was engulfed in flames a few nights ago. The interior of the carriage was damaged, however it is going to be restored.
On 6-28-09, I received e-mail that said:
Belcourt Castle in Newport for sale - look here:
http://www.judychace.com/featured-properties/107/
Back to "Castles of the United States"

Picture courtesy of Phil Bilzor