A. R. ROGERS CASTLE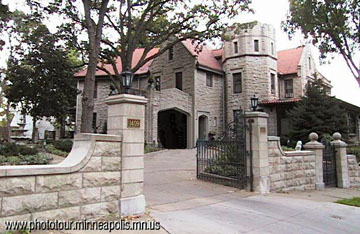 I understand this is located in the Kenwood neighborhood.
Later, I received E-Mail that said:
This "castle" is in the wealthy Kenwood neighborhood by lake Calhoun close to Uptown in Minneapolis, MN. Just thought you'd like to know.
On 3-8-07, I received E-Mail that said:
Just wanted to let you know that the "unknown castle" in Minneapolis is located at 1415 Mount Curve. I lived down the street from it for many years. All I know is that it's 13,000+ SF, 10 beds, 9 baths, and 5 fireplaces. Also, there's a tunnel from the mansion to the carriage house. Legend has it that it was used as an escape tunnel during prohibition.
On 9-29-13, I received e-mail that said:
The castle in the picture of the Unknown Castle, Minneapolis, is known as the A. R. Rogers castle. It was originally owned by Arthur Ross Rogers until his death in 1936 or 1938. A friend of my father bought it in the late 1980s or early 1990s and owned it until 2000. It is not really in Kenwood. It is in an area just above Kenwood called Lowery Hill. The address is 1415 Mount Curve Ave., Minneapolis, MN.
Here is a link to a picture of it with some info regarding the area:
http://mnsah.org/wp/wp-content/uploads/2011/02/With-Respect-to-Architecture-2010-05.pdf#page=1&zoom=auto,0,792
Back to "Castles of the United States"


Photo courtesy of Chris Gregerson, Phototour of Minneapolis
Thanks to Katrina Price for finding this castle.