DEL MAR CASTLE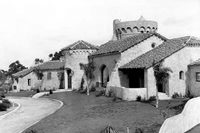 On 2-28-11, I received E-Mail that said:
Here is a link to the castle in del mar where Tony Robbins used to live. It is not the castle on the hill as stated on your website.
http://www.sandiegotraveltips.com/public/Tony_Robbins_Estate_in_Del_Mar.cfm

On 7-16-11, I received this link: http://www.shaperyenterprises.com/Projects/HistoricRenovations/castle/castle.asp
Back to "Castles of the United States"