SHADOW BROOK CASTLE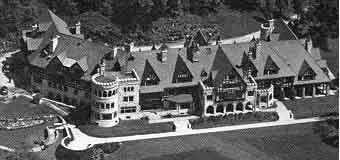 Merchant, banker, manufacturer, inventor, investor, and philanthropist Anson Phelps Stokes commissioned Shadow Brook castle in 1891. The architect was H. Neill Wilson, of Pittsfield, Massachusetts. At a cost of one million dollars, four hundred men labored for two years to build it. At the time of its completion in 1893, it was America's largest house, and remained so for two years until Biltmore was completed in Asheville, N.C., in 1895. The foundation, first floor, and most of the stonework were made of locally quarried marble. The tower was made of marble entirely. The 728 acre estate included a working farm, and a mansion previously on the site was remodeled as a carriage barn.
Mr. Stokes lost a leg five years later in a riding accident, and lost also his liking of a house with over three acres of floorspace. After an attempt to make Shadow Brook castle into an inn failed, it passed through several hands, ending up under the ownership of the wealthiest man in the world at that time, Andrew Carnegie. Mr. Carnegie had been looking for a suitable summer home in the United States to compliment his Scottish castles and numerous other homes, and immediately proceeded to remodel Shadow Brook castle to the tune of over a million dollars. President Grover Cleveland was one of many notables that enjoyed the estate as guests of Mr. Carnegie. Andrew Carnegie died at Shadow Brook castle in 1919.
Andrew Carnegie's widow gave Shadow Brook to the Jesuit Society of Jesus in 1922. In March of 1956, the castle burned, but was rebuilt. The new building does not approach the quality of the old one.
Back to Home Page

Picture and information courtesy of Phil Bilzor.