UNKNOWN CASTLE ??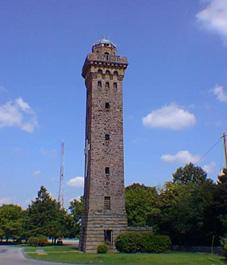 I received E-Mail that said:
On the top of Mount Penn is a large stone tower, rather castle-like. When I was a boy it was open and I recall being carried to the top by my father and looking out over and far beyond Reading from the exterior stone walkway with crenelated stone wall around. Being high on the mountain I recall it was a windy experience. As an adult I returned only to discover it is no longer open. I don't recall whether it had any name besides "the stone tower" which is how my father referred to it. I believe it was basically a square base with slightly tapered walls and the stone walkway near the top.
Later, I received E-Mail that said:
This tower is a fire tower and they are going to re-open it and use it again sometime in the near future. I can get a picture and send it to you. The reason it closed was because it was no longer needed after the fire pager system came into effect. Since there has been so many fires recently, they want to re-open it and use it for a communications center in Berks County.
Later, I received E-Mail that said:
The "castle" at Reading is the William Penn Memorial fire tower, built in 1939 as a WPA project to replace a wooden tower that burned down. It became obsolete, just a local attraction, deteriorated, and was finally closed for safety reasons. Civic pride and nostalgia fueled a $1M restoration project that may even be done by now. A good picture can be seen at
http://harpweb.com/berkstour/groupf/groupf5.html
but it's a slideshow, so it'll click to other local attractions. Here are views from the top of the tower (you may have to hang on the pan left/right buttons a bit to get them to work): http://www.berksweb.com/pagoda-skyline-inc/pana/
I'm not sure this quite qualifies as a castle, I will probably remove it from the website at a later time.
Back to "Castles of the United States"