MERRIWOLD CASTLE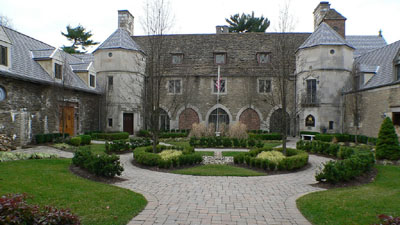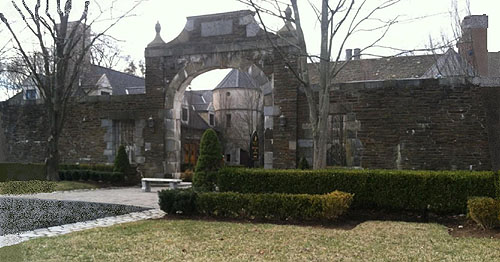 I received E-Mail that said:
About 20 years ago I made a sales call at a Castle in Highland Park, NJ across the river from New Brunswick that was built by one of the Johnson brothers of Johnson & Johnson. I was told that it was from England and was brought here as ballast on a boat and reconstructed. Johnson no longer owned it. It sits overlooking the Raritan river, had a gatehouse, Keep. Stables, tack room etc. Lots of armor and tapestries. The owner was in a psycho ward being evaluated after killing his wife. Don't remember the outcome. His lawyer named Diamond was living in the gatehouse at the time.
Later, I received E-Mail that said:
The Castle in Highland park was built by one of the Johnsons. It is now owned by a company called Kaplan, They build condo complexes and manage apartments in New Jersey. I used to fix there computers. The story about the guy killing his wife is true, He even used a secret stairway to try to escape.
It is located on River Road in Highland Park, Across from Johnson park. Between Rt 27 & Rt 18 It's a nice place. It was renovated inside and is now mostly office space. The last I heard it was getting fixed up on the outside. The courtyard and stuff.
Later, I received E-Mail that said:
I was reading the short blurb on your website about the castle in Highland Park, NJ, fittingly named "The Castle". I was actually on the grounds today and will probably return in the next few weeks to get some pictures for a online project a friend and I are doing on local area folklore and legends in the Central NJ.
I've done quite a bit of research into it and this link which pretty much sums up the history and current state of this interesting building.
http://www.injersey.com/day/story/1,2379,170916,00.html
To return to this page, click on the BACK button.
Later, I received E-Mail that said:
One of the castles that you talk about on your website is one that I actually worked at for about 2 months this year. It's located in Highland Park, NJ. The second email that you received about it being built by Mr. Johnson is correct. It is now owned by the Kaplans, who are builders. The actual name of the castle is Merriwold.
It is truly a beautiful sight, everything seems to be as was many years ago. I was shown hidden staircases and a hidden bar which was built behind a bookcase. It's completely surrounded by woods but people can easily drive up and look around. There were many times people would come in just to take a look around.
Later, I received E-Mail that said:
I'm writing about the Merriwold Castle. I grew up in Piscataway, NJ and remember it. The castle is on River Road just over the Piscataway-Highland Park border. The first thing that came to mind is that Kirk Douglas referred to the castle in his autobiography, "The Ragman's Son". His first wife's sister was married to one of the Johnsons. He stayed there when he was starting out as an actor.
The second thing that came to mind was that my elder sister, Cindy Wolfson Ciullo, wrote an article about the castle over 15 years ago for Central Jersey Magazine. You could probably get a lot more information from her.
I am always happy to find websites like yours that document the local history so that our descendants can use them as reference. In addition, our descendants will have their hands full researching things from our time that people neglected to record.
Later, I received E-Mail that said:
I appreciated finding your website...and locating Merriwold Castle in New Jersey. I have an oil painting of the Castle after it was completed many years ago....by Elizabeth S____? (we can't make out her name. Anyone who knows of her work - info would be appreciated). The painting originally belonged to Seward Johnson who gave it to my Mother. I believe His father did have the Castle moved from England or Scotland?? to New Jersey stone by stone via ship, for his new wife sometime in the early 1900's. If anyone has any other info on this story or corrections...I would appreciate having the history to go with the painting.
On 12-15-06, I received E-Mail that said:
I recently snapped a few pictures of Merriwold castle in Highland Park, NJ and have attached them for you. It is quite an experience to go there and drop off your rent check. Sadly, they have been building an apartment complex right next to the castle, but I have not included pictures of that.
On 11-28-09, I received e-mail that said:
When I was a child, my great-aunt had her doctor's office located in the castle. My mother would bring me along on visits so that I could play on the castle grounds. It was a great treat. I remember the grounds being slightly neglected, and there was quite a bit of wildlife there. Rabbits would run right by me as I played, and monarch butterflies would fill the gardens in the fall. It was truly beautiful.
I was also allowed to run about inside much of the castle. My favorite thing to do was to run up and down the steps of the turrets. The steps were iron, and there was a lovely stained-glass window at the top. About 6 months before the doctor's lease was up (this was in the mid-80's, I believe), the Kaplan company began closing off parts of the castle. The only area the public was allowed to go into was the doctor's offices and the turret on their side of the castle. My mother said that Kaplan was renovating in order to move their offices here, and that once the doctor's lease was up, Kaplan refused to renew it. Apparently, the doctor had paid for much of the restoration done to the parts of the castle that belonged to his office. He was rather upset about it. I was upset as well, since I could no longer play there.
On 3-30-13, I received e-mail that said:
The gatehouse is now the main entrance to the Parker at Stonegate nursing home while the castle itself is now used by "Kaplan Castle" as business offices for real estate and other professionals.
It is located on River Road in Highland Park nearby Piscatway and Rutgers University.
The grounds are very nicely kept - even the nursing home has an older castle era building restored to its original configuration.
Back to "Castles of the United States"

Photo courtesy of Rick Haines.
Second photo courtesy of Don Nelsen Jr.