UNKNOWN CASTLE ??
SOMERSET CASTLE ??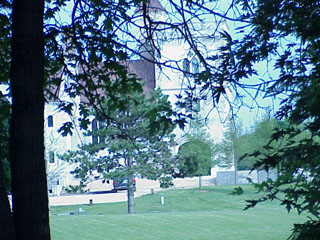 I received E-Mail that said:
We were recently taking a Sunday drive when we cam across what appears to be a castle being constructed just outside Harvard, Illinois. We are curious if anyone has any information related to this castle. It is BEAUTIFUL.
Later, I received E-Mail that said:
I use to live in Harvard if you were to tell me the whereabouts of this unknown "castle" I would be willing to do a little research for you. If the "castle" does exists I might be able to get picture of the place as well. But I need more information than just outside of Harvard. Any information would help. Like what part of Harvard? (it's not a really large place but it would help to have some idea of the general direction to look)
Later, I received E-Mail that said:
While looking at your website I noticed your comments on the elusive castle in Harvard, IL. I am from Harvard and have seen this castle. It is gorgeous. It is located on Lincoln Road in Harvard. I believe that the person or people who own Avon own this castle. I am told that it has been brought over from England and rebuilt in Harvard. I am waiting to hear back from my little sister. She knows more about it. (She goes to school in Iowa and gets back to Harvard once a month) I will let you know what I find out.
Does anyone have more information about where it's located? Does it have a name?
After seeing a photo of this building, I'm not sure it qualifies as what I think of as a castle. It appears to look more like a church. If you have seen this building, please let me know what you think.
Later, I received E-Mail that said:
In regards the the castle that you have a picture of on your web page, I think (don't hold me to this), it belongs to a couple in which the lady is or was an executive at the Mary Kay cosmetic corp. Their castle is extensively larger than ours, in fact, I was told by a guy who helped dig out the foundation, that it has a 3 level basement.
Later, I received E-Mail that said:
While researching the castle in Harvard I was led to your web site and the reference to the castles in Harvard. There is reference to two castles; one at 4504 Rt. 23 that is going to be a B&B, and a castle on Lincoln Road in Harvard. There are in fact two castles, one that is going to be a B&B, and the one on Lincoln road that looks very similar to the Hammond castle in Mass. I saw this castle today for the first time, and was told that it is being built by a person that was or is in the cosmetic business. The grounds are vast and beautiful with a lake surrounding most of the castle. It is still under construction.
On 2-12-08, I received e-mail that said:
I came across this website regarding the property on Lincoln Road in Harvard, Il. The truth is: The owners are Henri and June Giugni. June owns Cosmetique, a mail order cosmetics club in Vernon Hills, IL. This dream of theirs has been evolving for a number of years. The property is just incredibly beautiful. I have seen pictures of the inside and all I can say is WOW!! This has been a true work of love between two people who have taken this property to the next level, with manmade ponds that are stocked with fish and birds of all kinds brought in to make it their new home.
It is called Somerset!
On 11-29-15, I received e-mail that said:
In regards to the somerset castle. I am a carpenter who worked on it. Originally the owner is from Switzerland and he imports birds into California. I was told some of the lumber in the great room was from England and when the Windsor castle had fire damage they out bid the Queen to get the lumber. The trees are only cut down every ten years. They flew in the best tradesman from around the world to work on it. I felt very privileged and an honor to work there. Specifically the English white oak is what i worked with. I made a video of the work but it was accidentally taped over by a customer of mine. I only have the shot of driving up to the castle. And a couple photos of the exterior. At the time it was the largest square footage private residence with a whopping 71,000 sq ft. Beating out Michael Jordan's home of 65k sq ft.
Back to "Castles of the United States"

Photo courtesy of Bruce Busboom.