BUTLER CASTLE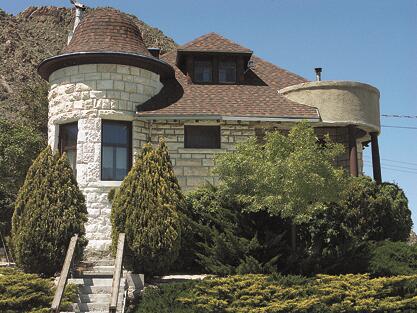 I received E-Mail that said:
There is a castle located in a small town in Nevada called Tonopah, infact there are two located on the same hill side. The one which is white with brown roofing is occupied, it is two or three stories sits high above the town on a mountain called "T" mountain because of the letter T that was inscribed on one side of the mountain out of White Quartz. The castle which is occupied has a history with the towns founding father and has an interesting look in architecture that brings a form of elegance to the dry desert Tonopah calls it "The Butler Castle" after the towns founding father Jim Butler, don't know how old it is but it has been photographed for decades.
On 3-26-06, I received E-Mail that said:
There are indeed two large houses located on the side of the mountain, however, the one on "T" Mountain is called the eagle's nest, and doesn't look anything like a castle. Farther down the range is the house locally known as The Castle, where I live. It does, indeed look like a castle and is constructed of white rhyolite. It was built by Tonopah banker Arthur Raycraft in 1906. Jim Butler, the founding father of Tonopah, had nothing to do with the construction of either house, nor did he live in either one. Our restoration of this home was featured on an HGTV Restore America segment in early 2000.
A present-day picture of our home is attached.
Back to "Castles of the United States"

Thanks to Joni Eastley for sending the photo.