UNKNOWN CASTLE ??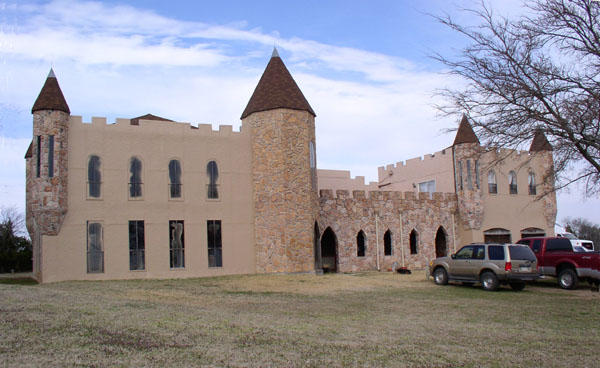 I received E-Mail that said:
Many years ago (18 yrs) I was driving to the Red River north from Bonham, TX and passed a castle. I would now like to try to find that castle again. If you have any information about it could you please let me know. I know that it is east or maybe southeast of Denison, TX. It was just kind of out in the middle of now where. Please, if you know anything about it could you please let me know.
Later, I received E-Mail that said:
The castle in the Denison, Texas area is close to a little community called Ambrose. Ambrose is a community between Denison and Bells, Texas. I hope this information helps a little bit.
Later, I received E-Mail that said:
From Sherman, Texas you drive east on US Hwy 82 to Bells, Texas. Turn north on US Hwy 69 and about 1/4 mile on the right starts FM 1897. Turn right and follow this Farm-to-Market road north toward Ambrose. This castle can be seen about two miles on the right. The entrance drive has a sign above that says "SMITH HILL".
Later, I received E-Mail that said:
I ran across your site in a ezine I receive, WitchsCavern. In regards to the 'Unknown Castle' near Denison, TX. I lived my entire life in Denison until 5 years ago, which would be 44 years. The 'Unknown Castle' was built in the late 1970's and originally the overhead entrance sign at the gate to the property said 'Possum Breath Ranch'.
Later, I received E-Mail that said:
I recently used your page to go sightseeing and see castles in the Dallas Fort Worth Texas Area. The one that interested me was the one that was in Denison. I followed the very well written instructions on your page, and I was there in no time.
I drove up the dirt road, expecting the castle to be abandoned, but as I pulled closer in, I saw proof the people lived there. A large Rottweiler/Shepherd Mix stands guard outside of the house. I knocked on the door and was greeted by Mrs. Smith. Her husband and she are the original owners of the home that they have converted from a farm home into a castle.
Mrs. Smith was very cordial and gave me free reign to shoot all of the photos that I wanted to outside of her home. She excused herself to make Spaghetti (It smelled SO good!) and I proceeded to take some photos. I am enclosing those photos.
Here is the story from what I can recall. She and hubby bought the home in the early 70s and began to do what they thought was needed to make the house look like a castle. As they did so, there were no other people in the US that they knew about who were doing this. She said that they still get one or two people a year who ask if they can look at the house. She does not let visitors in their home.
On 7-13-09, I received e-mail that said:
I see you have gathered much information on this castle. The Smith's are my cousins. When I was 14 years old (now 41) I helped Corky (Mr. Smith) work on his castle during the summer break from school. It is true the original name above the gate was "Possum Breath Ranch".
Work on the castle had slowed when the oil market bottomed out in the 80's. The room all the way to the left, upstairs is the master suite where you will find his and her walk in closets. The room on the right upstairs was their daughters suite. I believe it to be around 700+ Sq.Ft. in size.
Not many people actually know this but the original house that was on the property is actually a ranch style home and it is the core of the castle. Yes, the castle was built on top of the original home. I believe it to be a three bedroom 2 bath ranch. I have fond memories of this castle and being out there when I was a kid.
Does anyone have more information about it? Does it have a name?
Back to "Castles of the United States"

A special thanks to Dixie for taking and sending in the photo.