MIRAMONT CASTLE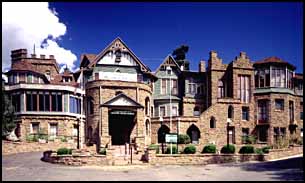 I received E-Mail that said:
Miramont Castle was constructed in 1895 as a private home for Father Jean Baptist Francolon, a French born Catholic priest. The castle features nine styles of architecture ranging from English Tudor to Byzantine and all crafted from locally quarried greenstone and yellow pine framing. Today Miramont is a museum dedicated to preserving the Victorian heritage of Manitou Springs and the Pikes Peak region.
Miramont Castle is located just off Ruxton Ave. between the Pikes Peak Cog RR depot and the historic downtown shopping district. For more information call 719-685-1011. Miramonte Castle is closed on Mondays.
On 4-7-08, I received E-Mail that said:
They have a website, too.
http://www.miramontcastle.org/
Back to "Castles of the United States"